Clear Advantage Acne Spot Treatment by Arbonne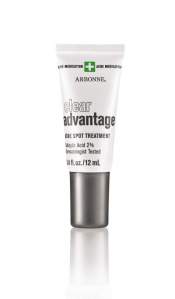 Arbonne's Clear Advantage Acne Spot Treatment couldn't have come in handier or at a more convenient time for me!
Every now and then my skin can erupt for a multitude of reasons such as having a stressful week, and it could use some serious help.  Well, it was definitely one of those weeks!   As soon as I noticed myself breaking out, I dabbed a layer of the acne spot treatment where I needed it the most.
I was thankful that Arbonne's Clear Advantage helped to prevent my blemishes from getting bigger and also helped prevent redness!  It felt light and gentle on my skin and I loved how it didn't make my face feel dry and tight like some topical acne treatments tend to do.
That is in part because the acne treatment's formula uses salicylic acid, which is gentle yet effective.   Its formula  contains no alcohol or benzoyl peroxide which can be drying nor mineral oil, petrolatum, or paraffin which often times can block pores, making a breakout worse.
Clear advantage is also vegan and doesn't contain any harsh ingredients or chemicals just like all of their product lines.  Of course I love that!
I was impressed at how effective the spot treatment worked.  If you are prone to breakouts and have sensitive skin, Arbonne's Clear Advantage Acne Spot Treatment is pure, gentle, and efficient!
Available at arbonne.com
$22