Beauty Talk – Kimberly Prado of The Rain Salon Tigi Boutique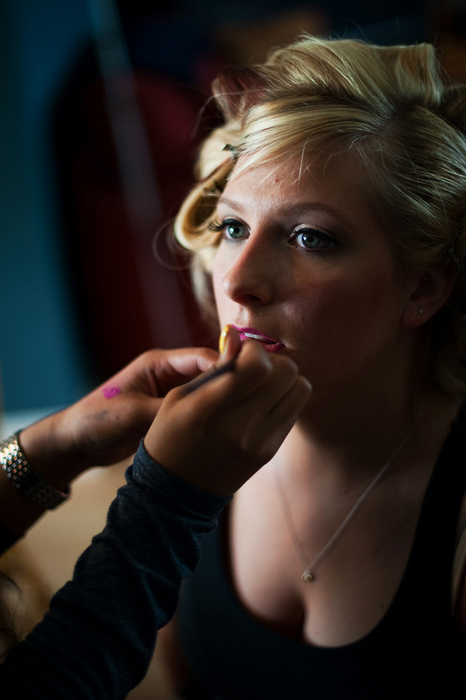 Kimberly Prado is a stylist/ makeup artist at the Rain Salon Tigi Boutique in Walnut Creek, she graciously agreed to share with us some of her beauty insider makeup tips and tricks. And as usual I had to ask her about Red Lipstick and her opinion about wearing makeup to the gym.
Anita: What is your approach to makeup, your signature style?
Kimberly: My signature style is a black cat eye and lots of mascara. One day it could be a subtle cat eye with a bit of liner on the bottom lash line and another day it's a clean, long and thick cat eye. Very simple and easy to go from day to-night!
Anita: Cosmetic Products you recommend for a melt-proof summer?
Kimberly: There are two products I would highly recommend for a melt-proof summer, or for just great makeup staying power, and they are Motives No-Shine Spray and Motives 10 Years Younger makeup setting spray. The No-Shine spray is absolutely amazing for those who have oily skin, like myself, and should be applied right after moisturizer to keep and matte to satin finish. The 10 Years Younger Spray can be applied before and after makeup application. They're both weightless and breathable and help keep your makeup looking flawless for up to 16 hours! And definitely water-resistant or water-proof mascara like Motives Lustrafy Mascara or MACs Opulash Mascara.
Anita: What is the most important step in makeup application?
Kimberly: Exfoliate and moisturize! A good surface to work on is smooth and supple skin. If the skin is dry and flakey, the primer and foundation will not set properly, so it will challenge your ability to create a flawless face. I like to use a simple exfoliating face wipe and a good amount of oil-free moisturizer.
Anita: Women and makeup at the gym, what's your opinion?
Kimberly: I believe people go to the gym to look and feel great. So, when women wear makeup at the gym, it's because they want to look and feel great, while maintaining their physique. I don't wear makeup if I go to the gym, because I sweat a lot and wipe my face a million times, but now and then I may wear waterproof eyeliner and it stays on perfectly! So, if anything it's a great place to test out waterproof cosmetics!
Anita: Your version of a 5 minute makeup routine for busy women?
Kimberly: From experience, if I only have minutes to create a "pretty" face here is what I do:
1. Moisturize skin and lips.
2. Apply a tinted moisturizer, or concealer to minimize blemishes. Tip: Concealer may take longer, because of its thicker consistency and patting application. Applying an all over tinted moisturizer or light foundation is quicker, but may not cover any blemishes or flaws completely.
3. Dust your entire face using a big fluffy brush with transparent powder or a full coverage face powder.
4. Brush eyebrows up and away using a clean mascara wand, with or without a hint of eyeshadow thats one shade lighter than eyebrow color.
5. Curl eyelashes and apply mascara on top and bottom lashes.
6. Apply a blush/bronzer duo, by swirling the blush brush in the duo and starting at the apples of the cheek, brush in small circular motions towards hairline. Tip: Using a blush/bronzer duo will instantly give your skin a radiant glow.
7.(Optional)When mascara has dried, using a nude or naked colored liner (lipliner or eyeliner) apply on bottom waterline to create a fresh and doe-eyed look.
8. Apply a colored lip like coral or pink, or even your favorite RED for a burst of color.
9. Apply a makeup setting spray and "Voila"!
Anita: The question everyone is dying to know – which celebrities have sat in your chair?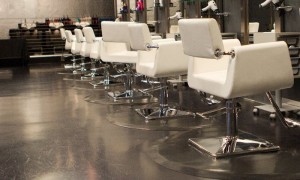 Kimberly
: Every client is a celebrity! I have met celebrity Makeup Artists like Caroline Wiseman (Actress and
Motives Makeup
Trainer),
Scott Barnes
, who collaborated with Motives and created a limited collection for us and
Lea Journo
, who has come to our salon and graced us with her amazing talents! I have done clients who are aspiring models, actresses and have a current client Monica who sings with a group called One Vo1ce.
Anita: What is the biggest mistake women make with makeup?
Kimberly: The biggest mistake I think women make with makeup is choosing the wrong color of foundation. It's easy to spot bad foundation from a mile away! I use and formulate custom foundations for clients in both liquid and loose powder form. When I'm applying foundation on a client for a party or event, I will more than likely mix a couple of colors to achieve the correct skin tone. It does NOT make sense to wear one shade lighter or one shade darker than your skin, you have to match the color of your skin. Not only will a woman feel more comfortable by wearing their "own skin", but they will look ten times more fabulous!
Anita: What advice can you give women who are caught in a makeup rut?
Kimberly: Breath! Then make an appointment talk to a Makeup Artist at a counter or salon and ask questions. Or make an appointment to get your makeup done, go home, wipe one side off and finish the look to match. You can also find amazing Makeup Artists on YouTube. Watch, listen, learn and practice. I've been doing makeup for years, but that doesn't mean I know everything. There's always something new to learn, something I've never heard of or done, and some things I don't agree with but will find my way to doing. You can always walk away with at least one tip that will change your life… or at least your beauty routine!
Anita: What are your favorite products to work with and why?
Kimberly
:
No Shine Spray
and
10 Years Younger Makeup Setting Spray
by
Motives
are a must because they keep makeup looking fresh and clean for hours, even with humidity, tears and late night partying!
Shu Uemura Eyelash Curler – It really is the best eyelash curler… in the world!
Motives and MAC eyeshadows – Great colors and high-quality pigment.
Nars Lip glosses – are smooth not sticky and creamy.
Motives Vitamin C Lip Treatment – Hydrates, treats and prevents chapped lips. It has saved so many lips!
Invisi-line by Motives – It's silky, smooth, light and fills in fine lines. Works amazing for spot treatments or as a face primer. Plus a little goes a long way!
Anita: What other beauty essentials can we find in your famous makeup kit?
Kimberly
: I was given a prize bag full of "must haves" for your makeup kit and one thing that I absolutely love is the
Rohto Eye Drops in Arctic
. It's a pretty intense experience if you haven't tried it yet! It tingles like crazy but doesn't burn and your eyes stay bright and fresh.
I also love my heated eyelash curler. I use it after applying false lashes, it seals their real lashes with the false ones and totally opens up their eye even more.
Anita: Your opinion of women and Red Lipstick?
Kimberly: In my opinion it's the Classic look. Even though red lips can be striking, to me it's very versatile. There's so many looks you can wear with red lips. And with the millions of red shades out there, as long as you find the right red for your skin tone, you simply can't go wrong!
Anita: New trends we can look forward to?
Kimberly: Wearing lipstick that's slightly darker on the top lip than the bottom lip! I've seen it once and have seen it with completely different colors on top and bottom –  I think it'll be a hit!
Anita: Thank you Kimberly, I enjoyed our conversation and I can't wait to try the Rohto Eye Drops.
Kimberly Prado is available for makeup consultations, including weddings.  The cost is $75/$100 and now if you mention this interview you will receive %15 off.
Rain Salon Tigi Boutique
1655 North Main Street, Suite 104
Walnut Creek, CA 94596
925-939-4782
Photos Courtesy of  Kira Lauren Photography, FTW Photography