Sipping Your way to Beauty & Health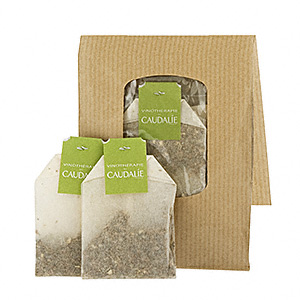 Sipping your way to beauty and health is delightful with Caudalie's Organic Herbal Tea. Vinotherapie Tea by Caudalie is ecocert certified and has 5 organic herbs: Red Vine, Cinnamon, Blackcurrant Orange Zest and Blueberries. It's the perfect tea for weight management. The tea is calming, soothing and relaxing. The cinnamon helps curb your appetite and the blueberries give a rich source of antioxidants.
This New Year's Eve I've embarked upon a healthier year, detoxing and using age appropriate skincare. I'm in love with the world of Caudalie – isn't it time you explored a world of health and beauty?
Caudalie skincare products are made with the grape-seed OPC Molecule which is 10,000 times more powerful than Vitamin E in fighting free radicals. Caudalie offers 35 different skincare and bodycare products for all skin types.
Slimming Organic Herbal Tea by Caudalie is Citygirl approved!
Caudalie Skincare products available at Sephora or @Caudalie
*• Tips from your Vinotherapist
For a diet program, steep three tea bags in a liter and a half of boiling water, let it cool, pour into a water bottle and accent with lemon juice. Sip on the tea all day long.*