Beauty Bargain: Soothing water for all skin types by Caudalie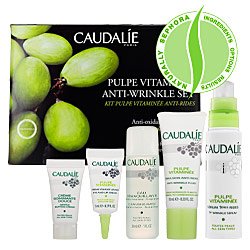 Do you suffer from dry parched skin, especially during long flights? As skin matures it's important to keep it hydrated and moisturized. Grape Water by Caudalie works as a toner after cleansing or a hydrator that refreshes your makeup after a long day at the office or keeps your skin hydrated during a 10 hour flight to Paris.
This plant based soothing water is extracted directly from the grape during harvest. It's 100% grape water enriched with moisturizing polysaccharides and mineral salts – and it's perfect for the most sensitive of skin.
Caudalie skincare products are made with the grape-seed OPC Molecule which is 10,000 times more powerful than Vitamin E in fighting free radicals. Caudalie offers 35 different skincare and bodycare products for all skin types.
Grape Water by Caudalie is Citygirl approved!
$13
Available at Sephora
*Tips from your Vinotherapist
After spraying, leave Grape Water on the skin without patting dry. For even greater freshness, store the spray in the fridge.*