Solutions for Controlling Rosacea by Dr. David J. Goldberg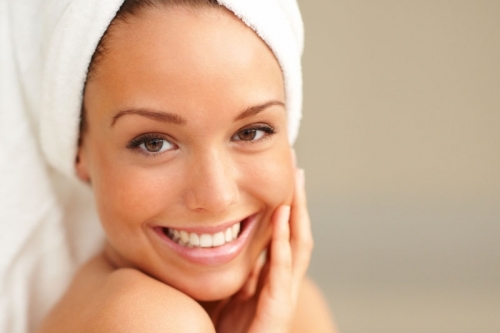 April is national Rosacea awareness month.  Rosacea is a common skin condition that affects women, men and children alike.  It is a non-contagious facial skin disorder that usually begins as a redness, like a blush, appearing on the face – most often on the cheeks, nose, chin, and forehead. At first, the redness may come and go, but over time, it can become more persistent, presenting visible blood vessels. If left untreated, bumps and tiny pimples may develop.
Dr. Goldberg, recognized nationally and internationally for his innovative work with skin lasers, cosmetic dermatology and facial rejuvenation techniques, recommends several products and treatments for the flushing reaction of rosacea.  My sister Rosemary suffers from Rosacea, and we are always looking for skincare that helps keep her skin issue under control.  Please join me by reading further if you or someone you love suffers from Rosacea.
Solutions for controlling Rosacea:
Laser and Light:
The Nd:YAG Laser is used to treat visible blood vessels associated with rosacea and is less likely to cause bruising. YAG laser gets deeper down to the blood vessels but requires technical expertise. In addition, the pulsed dye laser helps with superficial redness and when used in combination, the two treatments can provide positive results.
Dr. Goldberg
also adds a red light emitting LED treatment which decreases the inflammation associated with rosacea. By using this technique of all three laser and light source treatments together in a series of monthly treatments, Dr. Goldberg has provided rosacea suffers with dramatic results.
Dysport:
This proven wrinkle relaxer has been approved for treating forehead wrinkles and frown lines in the U.S. 
Dr. Goldberg
has used Dysport to help decrease the flushing of the skin because it inhibits the overactive blood vessels which lead to flushing.  "We have had positive results with the use of Dysport for treating rosacea," says Dr. Goldberg.  For optimal lasting results that put the pause on Rosacea, our patients undergo one session every three to six months.
Over the Counter:
Redness Relief CalmPlex:  This new lotion by SkinMedica, when used twice a day, calms inflammation within a week and delivers continuous improvement over 12 weeks.  Created with ingredients that specifically suppress inflammation and also sooth the skin including Vitamin B-3 and jojoba, CalmPlex helps address the itchy, prickling feeling many rosacea sufferers experience.  "This revolutionary skin cream, when used in combination with IPL or LED treatments, has made a big splash in helping to treat the redness that comes from having rosacea.  In addition, it also helps reduce the chance of future flare-ups," says Dr. Goldberg.
Doctor-prescribed oral antibiotics such as Doxycycline and the topical solution Metrogel are also popular with rosacea sufferers.
There are several known lifestyle and environmental triggers which can bring on rosacea symptoms and flare-ups," said Dr. Goldberg. The main triggers of rosacea are stress, alcohol, extreme temperatures – whether hot or cold – spicy foods and digestive issues.
While there is no cure for rosacea, and there are many different types, Dr. Goldberg also recommends a few at-home tips and easily accessible remedies to help alleviate symptoms and keep flare-ups to a minimum.
Regular consumption of chamomile and green tea helps with inflammation.·         Green tea creams have been known to provide comfort and relief.
·         Topical licorice herb can help reduce redness.
Vitamin B2 may help provide the body with the necessary amount of riboflavin to counteract insufficient dietary intake.
I found Dr. Goldberg's solutions for calming Rosacea helpful and I hope you did too! For more information visit @Dr. Goldberg
Cosmetic Dermatology – Dr. Michael K. Burns
450 Sutter Street, Suite 1412
San Francisco, CA 94108
415-362-4565
Photo Courtesy of Google Images