Luxurious Hair – Prada Spring 2012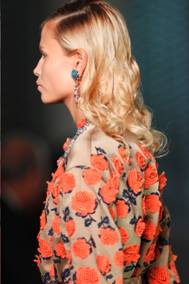 Hair trends begin every season on the runway, and Spring 2012 at Prada is all about effortless style with an unfinished yet polished feel.  Hair stays long, luxurious and wavy but with a touch of modern edge.
Beauty News: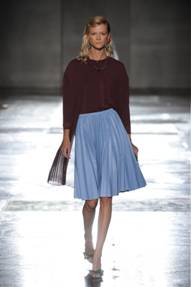 Redken Creative Consultant Guido created hair with a bit of an edge at Prada today, which offset the beautiful Spring/Summer 2012 collection.
The look for Prada today is a bit like a girl curling her hair and putting in a bobby pin before going out at night- she did her hair herself.  It's kind of  homemade, not finished, the hair of a woman with a David Lynch darkness– she's more night than day with her hair.  But she is overall a Prada woman because there is a refinement to her quirkiness."  – Guido, Redken Creative Consultant
Redken Products Used:
– Satinwear 02 ultimate blow-dry lotion
– Hot sets 22 thermal setting mist
– Fashion work 12 versatile working spray
Creating the Look:
-Apply satinwear 02 to damp hair and rough dry.
-Create a clean left side part and secure with a bobby pin on the right side.
-Tuck hair behind the ears.
-Section the back and apply hot sets 22 to hair and then curl sections using a 1" iron.
-Leave the curls as is (don't brush out).
-On the crown of the head, apply fashion work 12 to create a slicker look and ensure no
fly-away's.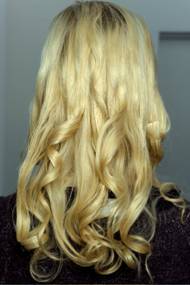 I can't wait to try this style at home, better yet I'm going to visit my friend Arron at the DryBar for another great blow-dry and a step by step tutorial.
Happy Styling!