The Polished Oscar Fringe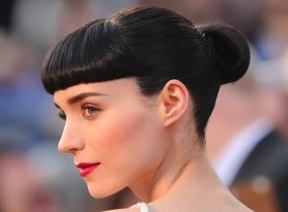 It's no wonder I felt like Roony Mara, with the short bangs.  Luckily for me mine have grown out.
If you're still sporting bangs that might be a little on the short side, Sam Villa has a really good hair tip that will give you a polished Oscar Fringe.
Sam Villa, Founding Partner of the Sam Villa® brand and Education Artistic Director for Redken 5th Avenue, has a trick for creating a perfect beveled fringe as polished as Mara's.
Beveled Fringe

·       Place a fringe section in the teeth of a fine tooth comb
·       Horizontally place the Sam Villa SLEEKR® flat iron/$199.95 around the section at the base and slowly rotate the iron down and under without closing.  Since the iron is round, the heated hair takes on the beveled shape.
Here's to Happy Styling!
For more tips visit Sam Villa @SamVilla.com