Beauty Splurge: Sheer Glow Highlighter by Arbonne Cosmetics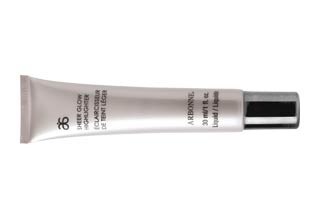 Okay, was anyone thinking highlighter?
Honestly, I've never purchased a highlighting product, and I'm asking myself, What took me so long?
We all know that you can use highlighters to accentuate or play up our best features such as cheekbones, but highlighter can also be used to give the illusion of a thinner nose, give puffy eyes a pick-me-up or detract wide-set eyes with one swipe.
Recently I tried Arbonne's Sheer Glow Highlighter and was impressed at the soft, dewy glow it gave my face!
It was creamy, but super-light and had a fresh-smelling fragrance.   I liked the fact that Sheer Glow Highlighter was sans glitter and over-the-top shimmer.  Don't get me wrong, I love that look for certain soirees, but for an everyday, au naturel makeup look, Sheer Glow Highlighter fit the bill perfectly!
And Arbonne is always sneaking yummy things for your face in their products, so don't expect any deviation just because this is a highlighter.  It contains polypeptides and extracts like Buddleja davidii…Don't worry, I won't make you pronounce it… Just know that it soothes your skin!
Arbonne's Sheer Glow Highlighter adds luminosity to your face, is moisturizing and safe for all skin types.
A definite must-have in your makeup bag!
Available at arbonne.com
$36