How to Give Yourself a Home Manicure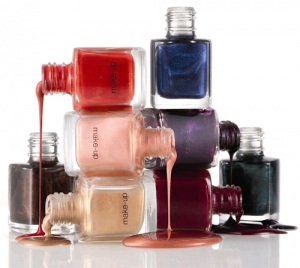 Getting a manicure or pedicure in a nail salon is a fantastic treat! Who doesn't love to get pampered?  Sometimes though,  it is nice to be able to give yourself a home manicure.  In between those salon trips, here are some tips and products to help you achieve professional results:
1.  Remove old nail polish from your nail surface.  Try Tate's Natural Miracle Odorless Nail Polish Remover (Amazon, $10).
2.  Soften your cuticles and hands by soaking them in a  bowl of soapy, warm water for 10 minutes using Soap Walla Kitchen's Organic Hand + Body Wash (Etsy, $20).
3.  Dry hands completely, then buff your nails to make your manicure last.  Try the 4 step Buffer (Sephora, $5).
4.  File the edges of your nails, following one direction with Diamancel Flexible Diamond Nail File #2 (Sephora, $28).  Push cuticles back carefully with an orange cuticle stick (any drugstore garden variety brand will work).
5.  Add cuticle oil or cream to your nail cuticles.  I like Burt's Bees Lemon Butter Cuticle Cream (Target, $6).
6.  Apply a luxurious hand cream like Liz Earle's Hand Repair (Available at us.lizearle.com, $29).
7.  Next, remove excess cuticle cream and lotion from your nails.  Coat with a base coat to protect nails and bind the polish to your nails.  Creative Nail Design Stickey Base Coat is a quality base coat (Amazon, $6).
8.  Paint nails with two coats of nail polish, starting at the middle of the nail and then painting each side.  Let each coat dry thoroughly!  Pink of Hearts by O.P.I. is a gorgeous shade that supports Breast Cancer Awareness Month! (Sephora, $10).
9.  Finish your manicure with a top coat for protection that will make your manicure last!  Try Qtica 1/2 time Polish Drying Accelerator (Ulta, $8).
And now you can show off your perfect handiwork!
by Dawn Hassle