Dr. Jeannette Graf, M.D., F.A.A.D.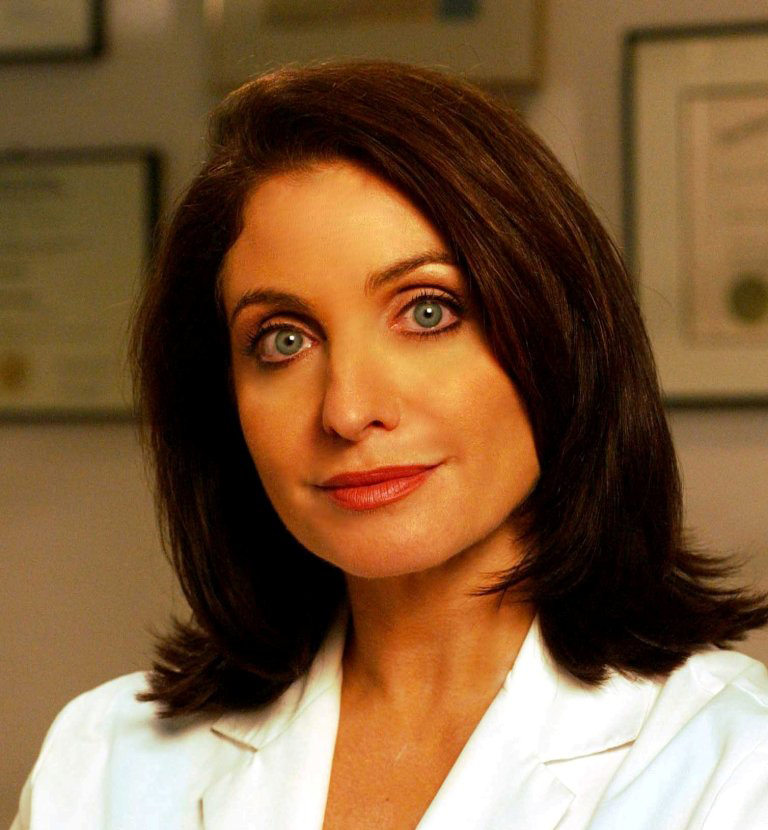 Dr. Jeannette Graf is more than just a pretty face, she's a leading dermatologist known for her extensive and comprehensive approach to dermatology by combining effective skincare products, office procedures and lifestyle counseling to her patients for optimal results in unlocking their inner beauty.
Dr. Graf is a board certified clinical and research skin science expert who is the  Assistant Clinical Professor of Dermatology at the prestigious Mount Sinai School of Medicine, and the author of "Stop Aging, Start Living".
Besides being on The View, Good Morning America and other shows Dr. Graf has been quoted in countless magazine editorials and serves as an independent consultant and on the advisory board for Neutrogena, RoC, Aveeno, Medicis and Johnson & Johnson to name a few.
This explains why Aveeno, RoC and Neutrogena recently came out with amazing and affordable skincare products for all skin types.  When women ask me what drugstore products I recommend I always recommend RoC or Aveeno.
I was thrilled when  Dr. Graf agreed to answer a few questions: Read further to find out why  it's   important to have a skincare regimen, and why incorporating  a alkalinizing diet is important for your skin and overall health,  and as usual I asked about Red Lipstick.

Anita: First I want to thank you for taking time out of your busy schedule to answer a few questions.
Dr. Graf: It's my pleasure, really.
Anita: What are some examples of your four-point body alkalinizing plan that we can share with our readers?
Dr. Graf:  • Daily alkalinizing "cocktails" – this can be making a green powdered drink or juice which will have the effect of raising your body's pH creating a more alkaline healthy internal environment.  Also having a mineral supplement is important.
• Nutrients in foods that enhance cell energy production and cell signaling – eating a healthy Mediterranean type diet.  Also enhancing digestion with high fiber foods and probiotics.  Avoiding refined foods, sugar and cola drinks.
• Choosing the right cleansers, moisturizers, and treatments that will give you the most noticeable results (hint: many of these products line the shelves of your local drugstore)
• Activities that can add exhilaration and laughter to your life and increase the neuropeptides in the brain that actually rejuvenate skin cells
Anita: Tell us more about Vitamin 3D – why is it important?
Dr. Graf:  Vitamin D3 is essential for proper bone formation and other areas of health that we are learning more about every day.  There are vitamin D3 receptors in practically every organ in the body and D3 appears to play an important role in immune function.  In skin, vitamin D3 is essential in wound healing and skin defense.  Skin produces antimicrobial peptides which play a vital role in the skin's protection from the environment – vitamin D3 is necessary for their production.
Anita: What type of skincare regimen should a person who suffers from acne be on?
Dr. Graf: It depends on the type of acne and what medications they are on.  Sun protection is a must during the day and a sunblock made for acneic skin such as EltaMD Clear SPF 46 is well suited.  pH balanced foaming or gel cleansers containing salicylic acid with lighter moisturizers at night are recommended. Retinol is important to use unless tretinoin is part of the medication regimen.  Mineral make-up is good for acne-prone skin.
Anita: What treatments do you recommend for someone who suffers from rosacea?
Dr. Graf: There are medications that are frequently used to maintain rosacea patients including topical metronidazole, azeleic acid and sulfur type products.  Daily sun-protection is a must since sun is one of the biggest offenders of rosacea.  In addition, there are a growing number of anti-redness, calming, soothing products on the market including products by Avène, Aveeno ultra-calming products and Eucerin anti-redness.
Anita: What skincare products do you recommend for someone who is trying to correct the signs of premature aging?
Dr. Graf: There are so many exciting developments in the aging skin market – more every day.  First, retinol is a must for everyone no matter what age.  I've been excited about peptides for almost 30 years when I was researching them.  Peptides are very specific and can actually recognize receptors in the skin and send whatever messages we want – such as increasing collagen production.  The peptides must be formulated properly with ideal structure and concentration in order to be effective.  As an overall anti-aging ingredient – I love gluconolactone, a PHA which is the next generation of alpha-hydroxy acids. Gluconolactone has multiple anti-aging benefits as well as improving skin tone, skin smoothness and radiance.  Sun protection is essential and gentle but effective exfoliation is important.
Anita: Tell us about your skincare collection – what makes it unique?
Dr. Graf:  I have always been passionate about science and skin care.  I also felt strongly that there was a large gap between what was available by doctor prescription vs. what was available in the market.  My goal was and still is to create an effective skin care line that could deliver real results that was based in pure science.  I love peptides – they have been my passion since I saw what they could do in the lab.  Why not apply that to the skin?  I use many peptides in my line and will continue to as well as the newest technologies (as soon as they come out).
Anita: What is your view on Prevention, Maintenance and Correction?
Dr. Graf: I am proactive on all.  Prevention is essential with antioxidants and sunblock; Maintenance is a continuation of prevention as well as proper cleansing, retinol from an early on and proper exfoliation since the skin's natural exfoliation process becomes less effective.  Moisturization is also very important as maintenance.  Correction is where the most challenging research is based since it requires great prevention and maintenance but as a 53 year old woman – I am constantly on the search for the newest and most active exciting ingredients for correcting the signs of aging whether lines, wrinkles, elasticity, and firmness.
Anita: Why is a skincare regimen important?
Dr. Graf: It will make all the difference in how your skin is going to look as you age.  Proper cleansing, sun protection and moisturization will go a long way in having smooth supple glowing skin.
Anita: What advice can you give someone who is beginning to look into a skincare regimen?
Dr. Graf: Start simple!  Start by cleansing regularly and never go to sleep with make-up.  Think in terms of protection products in the daytime and renewal products at night.  So start with an anti-oxidant sunblock product in the daytime and retinol at night.
Anita: What skincare products do you use and why?
Dr. Graf: I cleanse with a foaming cleanser or wipe off retinol cleanser if I'm feeling dry.  I incorporate peptides for collagen production and wrinkles, retinol, and firming products using copper and collagen in hydrolyzed form.  I exfoliate using a microdermabrasion kit for deeper cleansing alternating with a foaming brightening peel which is gentle and does just that.  I have started incorporating a phytoestrogen cream when my skin gets "strange" since I am perimenopausal.
Anita: What is your favorite shade of Red Lipstick?
Dr. Graf: I tend to prefer softer lip colors so I tend to go for rose shades.  My features are so contrasting since I'm very light skinned with very dark hair and blue eyes.  That is why a softer shade suits me.
Anita: Any last minute pearls of wisdom?
Dr. Graf: Yes!  Consider alkalinity an important part of any skin care regimen – drink lots of water!
Anita: Thank you Dr.Graf,  we learned a lot!
All RoC, Aveeno and Neutrogena skincare products are available at Target or Walgreens
Walgreens
1301 Market Street
San Francisco, CA