Firmer, Luminous & Radiant Skin – Caudalie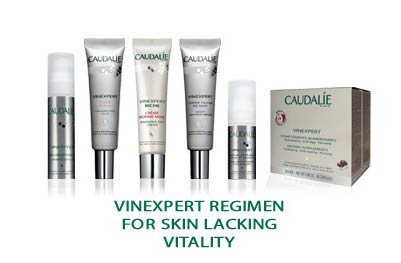 Firming Serum by Caudalie gives the skin an immediate lifting effect by absorbing easily into the skin, visibly reducing the appearance of deep wrinkles and frown lines.  Skin is firmer, luminous and radiant from within.
Caudalie skincare products are all made with the  grape-seed OPC Molecule which is 10,000 times more powerful than Vitamin E in fighting free radicals.  Caudalie offers 35 different skincare and body care products for all skin types.
It's easy to mix and match from the different collections, creating a skincare routine that leaves your skin revitalized and youthful.
The deep hydration from Caudalie skincare is perfect for the thirstiest of skin – offering protection against harsh weather and leaving the skin soft and supple.
Isn't it time you had firmer skin?
Sephora
33 Powell Street
San Francisco, CA 94102
*Tips from your Vinotherapist
For a firming & radiance treatment, alternate between the Vinexpert Firming Serum in the morning and the Vinoperfect Complexion Correcting Radiance Serum in the evening.*