Kate Walsh Talks about Boyfriend! (Part 1)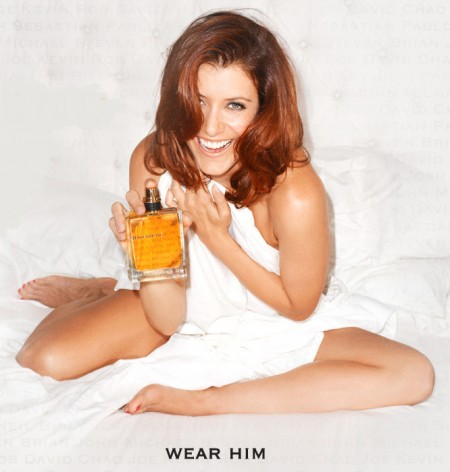 Last week was a very exciting week!  I was able to sit down with four other lovely bloggers and chat with Kate Walsh about her new perfume, Boyfriend!
Kate was very down to earth, had a great sense of humor and her passion and enthusiasm for her new aromatic endeavor was infectious.
Here is Part One of our conversation-  "Kate Hearts Bloggers":
KATE: Hey, it's Kate.
BLOGGERS: Hi!
KATE: Alright. Who's all here?
BLOGGERS: Ashleigh from Scent Rebel and PerfumeSmellinThings.com; Dawn Haasl from mylifeinbeauty.com; Victoria Jent from eaumg.net; Leslie Lacey from BLondeAmbitionblog.com, and Jenna Burke from Overanalyst.blogspot.com.
KATE:  I don't know what you guys have or haven't heard, but I came up with this idea several years ago. I think about six years ago to be exact. My boyfriend and I had broken up and I was in New York shopping and I missed him. I missed his fragrance, to be exact. So I went to the perfume counter. I was in Jeffrey's in New York and I was like, "You know what? I'm just going to get a guy's scent. Who cares? I don't have to have a boyfriend to have this."
And then a little bell went off and I was like, "Oh, cool. Wouldn't that be a great idea for a fragrance."  I would try men's fragrances – a lot of girls wear men's fragrances — but they were too strong or too much. And then the story of it wouldn't let me alone. I kept thinking of all the different ways to tell a boyfriend's story and how everywhere I go women are always talking about their boyfriends or husbands.  So two things: I couldn't really find that scent I was thinking about that would give me that olfactive memory, and there was this story everybody could relate to.
JENNA: Hi, Kate.  When do you suggest wearing the scent because it's a men's cologne and women tend to wear something a little bit heavier in the evening?
KATE: I remember very distinctly  my first boyfriend's cologne, which was Polo Ralph Lauren, and going on a double date.  Then coming home and having that smell on us and going, "Oh my God, my shirt smells like him!" and having that crazy, giddy feeling. But also just that sense memory and how powerful that is.  It's powerful in terms of the feelings it brings up and the storytelling that could come around it. That's what really intrigued me.  I love men's scents.  But when we were developing the fragrance I realized I really didn't want to wear one as a steady diet. It was too much, too heavy.  So when we were developing the fragrance we had this idea of having woody amber notes but we realized that, at the top, we wanted a floral…night-blooming jasmine and this juicy plum so it has a little juiciness that's very sensual. You want to take a bite out of it.
JENNA: Is there vanilla in it too?
KATE: Yes. There's vanilla as well.  The nice thing about it is that it's not a huge, oppressive fragrance. It's not a big fragrance that announces itself when it comes into the room. You smell it and go, "Ooh, what's that?" It's sort of edible. And because it has these different notes and it's a move-in fragrance, it can layer really well with other fragrances.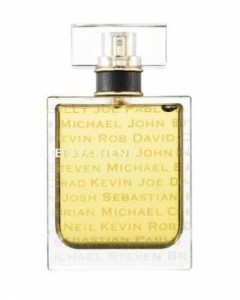 VICTORIA:  Hi! You've already answered my first question: What fragrance did your first boyfriend wear? Polo Ralph Lauren.
KATE: I dated myself there: Polo. Drakar. That was like the 80s and 90s.
VICTORIA: What smells did you like? Which fragrances have you always appreciated?
KATE: It's funny because that was part of the process for me —  my little education with Givaudan, the perfumers. What I respond to with men's cologne are these woods and amber and a little patchouli, but what I wore day to day was a little more floral or had vanilla or some musks in it too. It wasn't straight-up floral, but I do love night blooming jasmine.   The woman we worked with to develop Boyfriend, her name is Marypierre Julien. She is so amazing-  this fragrance really opens up. It's like a great wine.
VICTORIA: It sounds beautiful. It really does.
KATE: It is really beautiful. I'm really proud of it. Not just the fragrance but the product. Part of the reason why I designed the train kit was that I was inspired by vintage train cases and makeup cases. It's so romantic. When I grew up watching old movies and falling in love with all these movie stars like Clark Gable and Tyrone Power.  The women all were so glamorous and they all had these great compacts and everybody had the perfect shade of red lipstick. There was such this ritual to beauty. So I wanted to encompass that.
VICTORIA: It's a beautiful idea and the train case is adorable. Was there a surprise or something unexpected in the perfume process?
KATE: The biggest surprise to me was that – first of all it was a wonderful experience in terms of just being an artist and being a collaborator.
I felt really grateful to have that experience because the fragrance arena is obviously new – the whole business – is a totally new territory to me.   The biggest surprise was, 'Oh, I don't want to have a straight-up men's fragrance for women. I want it softened up. I want to have the balance of masculine and feminine.  I want to wear this all the time and  people to be able to wear this all the time.
VICTORIA: Well, it's a wonderful vision.
KATE: Thanks!
by Dawn Hassle