Keep Skin Clear This Summer with New Clearasil Seal-to-Clear Gel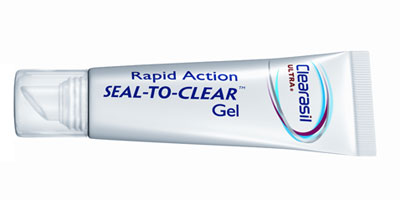 Alright ladies, it's time to fess up. Despite all of the articles you've read about the countless reason why you shouldn't do it, you still popped that zit that sprouted up overnight. We've all been there, so you don't have to be too ashamed, after all that giant red blotch on your cheek is making you feel bad enough.
So you popped the zit, and are left with a mess that looks even worse than it did before and the worst part is, now that it's popped and oozing it's impossible to cover up. Although I do not encourage popping blemishes, I do encourage you to fix it after you do it, so I introduce to you the newest addition to the Clearasil line: Clearasil Ultra Rapid Action Seal-to-Clear Gel ($9.99, Walgreens).
Like most acne medications, this fast-acting gel delivers acne-killing Salicylic Acid to help treat, heal, and prevent blemishes. What this gel has that others don't is InvisaSkin technology. This liquid polymer gel matrix forms a protective seal over the blemish so that the acne-fighting ingredients can do their job. What is great about this gel is that when you have a freshly-picked blemish, it's tough to cover it up with makeup, but with the protective seal surrounding the pimple, you have an even surface to apply concealer over and you won't have to worry about the makeup making the blemish even worse. Plus the gel is said to reduce the size and redness of zits in as little as 4 hours!
As someone who's suffered from occasional breakouts and the even more frequent picking, I love this product. It helps me clear away my blemishes quickly and allows me to cover them up without worry. That's pretty powerful stuff for such a lightweight gel.
Clearasil Ultra Rapid Action Seal-to-Clear Gel will be available in July.