Effectively Treating and Healing Acne – Cane+Austin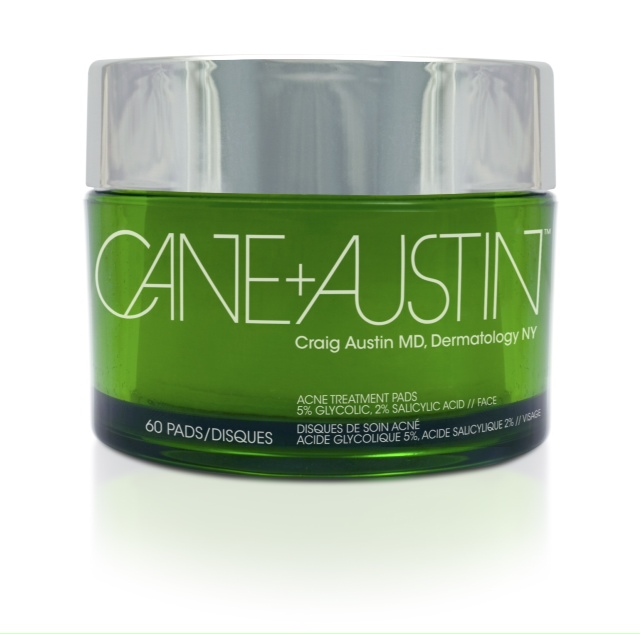 Suffering from acne at any age is traumatizing, finding the right routine that can help prevent or heal acne is usually done by trial and error, unless you have professional guidance.
We all don't have the luxury of visiting the dermatologists office, luckily there are several amazing products made available that can help eliminate acne before it starts.
I suffer from adult acne, especially during that time of the month when my hormones are kicked in high gear.  I breakout around my chin and jawline and since I've become a skincare guru finding solutions is paramount.
The adage that less is more is true, especially when treating acne. A good example is Dr. Craig Austin, he uses a simple and no-nonsense approach to achieving healthy youthful looking skin by using purified pharmaceutical grade glycolic acid. Dr. Austin uses glycolic acid derived from Sugar Cane – which is comparable to the same level of concentration found at the doctor's office.
The definition:
*Glycolic Acid derived directly from sugar cane  has the smallest molecular size (of any AHA) enabling it to work effectively both as an exfoliator and moisturizer.  The moisturization occurs by the Glycolic Acid's ability to bring water molecules from the environment into the skin and by pulling water molecules from the lower levels of the skin.
I've been using Cane+Austin Acne Treatment Pads to heal my existing acne breakout and to prevent my adult acne from getting out of control, my results are amazing, my acne cleared up and I'm back to testing age appropriate skincare.
Cane+Austin Acne Treatment Pads contain 5% GLYCOLIC 2% SALICYLIC ACID – knowing what we know about glycolic and salicylic acid is that the highest dose sold over the counter without a prescription is %10 and for treatments to be effective the minimum is %1, what does this mean? It means that Cane+Austin is clinically proven to deliver healthy skin within 1 week of continued use.
After 1 week
100% experienced a decrease in blemishes.
90% agreed their skin looked radiant, luminous and healthy.
80% agreed this treatment improved their acne.
Key Ingredients:
+ The only acne product available with pharmaceutical grade Glycolic and Salicylic Acid in one treatment pad at this level.
+ Glycolic acid 5% exfoliates the skin, prepping it for proven acne fighting 2% Salicylic Acid.
+ Salicylic Acid 2% helps to reduce the number of acne blemishes and blackheads and allows the skin to heal.
+ Contains liposomal vitamins A,C, E, COQ10, and anti-oxidants to protect skin from free radical damage.
+ Contains witch hazel for additional toning and tightening.
Benefits:
+ Not drying or irritating like other acne products.
+ Treats acne while delivering anti-aging results.
+ Helps to maintain clear skin without the use of oral antibiotics and other topical medications.
Maintaining clear and healthy skin is easy with Cane+Austin – a simple and direct approach to beautiful younger looking skin, for all skin types and age groups. This is one of the best acne treatments available on the market, isn't it time you loved your skin?
This is one Citygirl with acne clear skin!
30 Day Supply $60.00
60 Day Supply $110