In the Citygirl Hot Seat – Maria Hatzistefanis of Rodial & NIP+FAB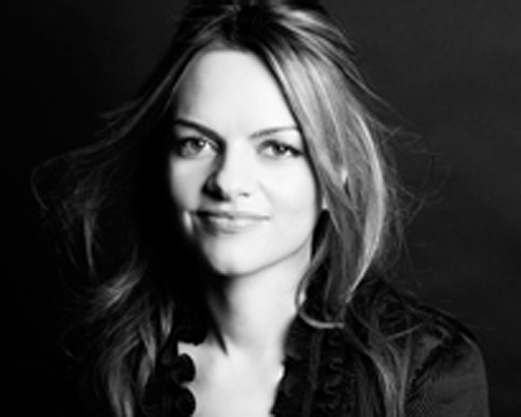 From beauty writer to skincare queen Maria Hatzistefanis grew up in a household that believed in beauty rituals, at an early age Maria learned the art of creating lotions and potions with recipes that were handed down from one generation to another.  Beauty was a right of passage that was part of her genetic code.
While in college Maria was a beauty writer for Seventeen Magazine, although she received her MBA in corporate finance, the world of beauty continued to whisper in her ear, there was a  need for cosmetics that performed at an accelerated rate, women needed help if they were to avoid plastic surgery.
Rodial was born, a skincare and bodycare range that fixed skin issues by maintaining, preventing or correcting premature age and leaving behind complete gorgeousness. Rodial has a huge celebrity following that includes Jennifer Aniston, Kim Kardashian, Bella Freud, Jade Jagger, Kate Moss, Olivia Palermo and Victoria Beckham – the list doesn't end there, it's longer.
Recently Maria's desire was to bring affordable quality skincare to everyone, realizing there was a need for a lower price-point skincare and bodycare collection that delivered quality results,  Maria went back to the lab and created NIP+FAB.
NIP+FAB launched first in the UK, causing a stampede throughout London.  Tubes of Instant Line Filler sold out within 24 hours with Boots receiving over 3,000 requests. The lines were long with over 850 people waiting outside in the cold and nippy air.
NIP+FAB has the same celebrity following and  beauty cult status as Rodial, recently we had the opportunity to sit down with Maria and ask a few questions – read further to find out at what age a woman should start using preventative skincare if she is to avoid plastic surgery and what the worst thing a woman could do to her skin after the age of 30,   and as usual I had to ask about Red Lipstick.
Anita: Thank you Maria, we appreciate your taking time out of your busy schedule, I know the US Launch for NIP+FAB is on October 23rd, you must be thrilled!
Maria: It's my pleasure, it's not a problem at all –   and yes we are very excited about bringing NIP+FAB to everyone.
Anita:  Let's get started, What separates Rodial from other luxury brands?
Maria: Rodial offers targeted treatments for specific skin concerns using a combination of naturally derived and high-tech ingredients. The names of our products are very unique and speak to our customer (eg Snake Serum as an alternative to botox, Tummy Tuck a tummy flattening gel). Every product I come up with comes from personal experience and what I need as a busy working mum and so every product has a reason for being. The products are easy to understand, give measurable results and are a pleasure to use. Rodial is the favourite brand of celebrities, makeup artists and people in the know in the skincare industry.
Anita: Inspiration for Nip+Fab?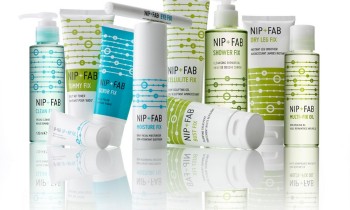 Maria: I was inspired from the designer collaborations of Lanvin for H&M and Stella Mc Cartney for Gap and wanted to bring some of the Rodial DNA into the Mass Market.  I wanted to create a range of beauty products which was both effective and affordable. Two of our best-selling products Frown Fix and Tummy Fix have already created a lot of buzz around the brand. The recent collaboration of Missoni with Target was a huge success and we hope to follow a similar buzz when NIP+FAB launches in Target.
Anita: What is the difference between Rodial and Nip+Fab? 
Maria: We use two different labs and manufacturers so there is no overlap whatsoever on formulas and ingredients. I identify a trend or a need in the skincare or bodycare market and brief the two labs independently, with different budgets and we end up with two very different formulas. With Rodial we use at least 4 active ingredients in every product, with NIP+FAB we use one. The packaging with NIP+FAB is less expensive but fun and very modern. Each brand has a very different identity.
Anita: At what age should a woman start using Rodial – or Nip+Fab to avoid plastic surgery? Can plastic surgery be avoided or would you say your skincare collections are great additions after professional services/treatments?
Maria: It is not just about avoiding plastic surgery it is about caring for your skin from an early age using the latest in high-tech skincare. The NIP+FAB target market is 25-45 and Rodial is 30-50+ – I do believe in the latest high-tech skincare ingredients for anything from muscle freezing, to adding volume to lifting and tightening the skin.
Anita: Is there a recipe for healthy skin you learned from you grandmother you can share with our readers?
Maria: Mix honey with sugar for an at home moisturising exfoliator.
Anita: What are the common mistakes women make with their skin?
Maria: Cleansing with a harsh cleanser after the age of 30 is a no-no. After the age of 30, the oil glands on the skin decrease and a harsh cleanser strips the moisture resulting in dry and dehydrated skin.
Anita: Did you create Nip+Fab so that every woman had the opportunity to use age appropriate skincare etc.?

Maria: Definitely! Rodial is a huge success but many women often felt it was out of their price range. With Nip+Fab, products such as Frown Fix, Pigmentation Fix and Dark Circle Fix give fabulous results without breaking the bank. I think it's really important for all women to have access to great skincare as this can be the difference between keeping skin looking youthful for longer.
Anita: What is your beauty regimen like in the mornings and evenings?
Maria: In the morning I use Clean Fix Gel to gently cleanse; it feels really luxurious and gentle and leaves my skin super soft. I'll use Moisture Fix to hydrate skin and apply Sheer Make Up Fix for that fabulous, sheer base. Then, I'll pop a Frown Fix in my handbag for a quick beauty fix on the go. At night, I use Clean Fix Wipes to remove all traces of daily dirt & grime, dab Dark Circle Fix, which I keep in my fridge, onto the browbone to reduce any tiredness and cool the skin then, just before bed I apply a generous layer of Night Fix to wake up with radiant skin!
Anita: Your favorite shade of red lipstick?
Maria: I love MAC pencil in Spice and then use LIP FIX; I prefer a sheer natural colour!
Anita: Last minute pearls of wisdom?
Maria: A positive attitude makes you look younger and happier!
Anita: Thank you Maria, we enjoyed our conversation and can't wait for NIP+FAB to officially launch in the US –
Maria: My pleasure!
NIP+FAB launches on October 23rd at selected Target Locations nationwide and are available online @Target.com
The prices are affordable starting at $5.95