Lena Headey for the 2012 Emmys & Leonor Greyl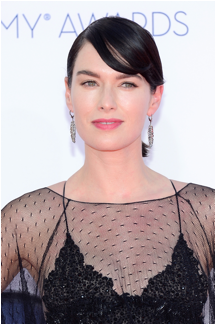 Another favorite show on HBO that has a captive audience is "Game of Thrones", and Celebrity Hairstylist Nathaniel Hawkins created a simple and modern look to frame leading lady Lena Headey's beautiful face.
"Lena is wearing this incredible beaded black dress with a lace overlay, so we wanted to keep her hair deceptively simple and really modern to frame her face beautifully." – Nathaniel Hawkins Celebrity Hairstylist
To achieve Lena's look her hair was spritized using Leonor Greyl's Tonique Hydratant evenly throughout her hair and combing the product through for even distribution.  Then a few  drops of the Leonor Greyl Huile de Palme were emulsified and worked  through from her midshaft to her ends for a sleek and shiny result.
Leonor Greyl's Mousse Au Lotus Volumatrice  was applied from root to tip using a vent brush so that every inch of her hair was covered.
Styling Tip #1:  When you're putting the hair up in any manner, mousse will actually hold all the hair together so that you can create a beautiful form and style the hair in any style.
Three generous applications of Mousse Au Lotus Volumatrice via the vent brush; once on the left, once on the right, and once in the back.
Styling Tip #2:  Products only work where they are applied.  Most people  don't apply enough product and never achieve the look they want.
A Mason Pearson type of brush was used to stretch and bend the hair, smoothing it out without making it flat.  After it was about eighty percent dry, the roots section by section were blown-out creating motion, styling the front part and bangs sweeping them forward and around her forehead.
"The Leonor Greyl Mousse Au Lotus Volumatrice was the perfect tool to ensure her hair stayed like that all night because it creates great style memory for the hair."  – Nathaniel Hawkins Celebrity Hairstylist
Then, after letting her hair set for twenty minutes, all of the hair except her bangs were lightly backcombed creating  a little bit of lift away from the head to ensure a beautiful shape.
Afterwards, everything was pulled back into a low, ponytail at the nape of the neck so that it would lay flat  and not stick out, which was very important for the look of her dress.
Leonor Greyl's Lacque Souple was misted to finish off her look, using a tiny little brush, a toothbrush would work perfectly, and smoothed all the little flyaways into place.
"I love the Lacque Souple because it gives incredible, invisible hold and makes the hair incredibly shiny." –  Nathaniel Hawkins Celebrity Hairstylist
Leonor Greyl is available at Leonorgreyl-usa.com