Recommend Beauty Essentials for The World Traveler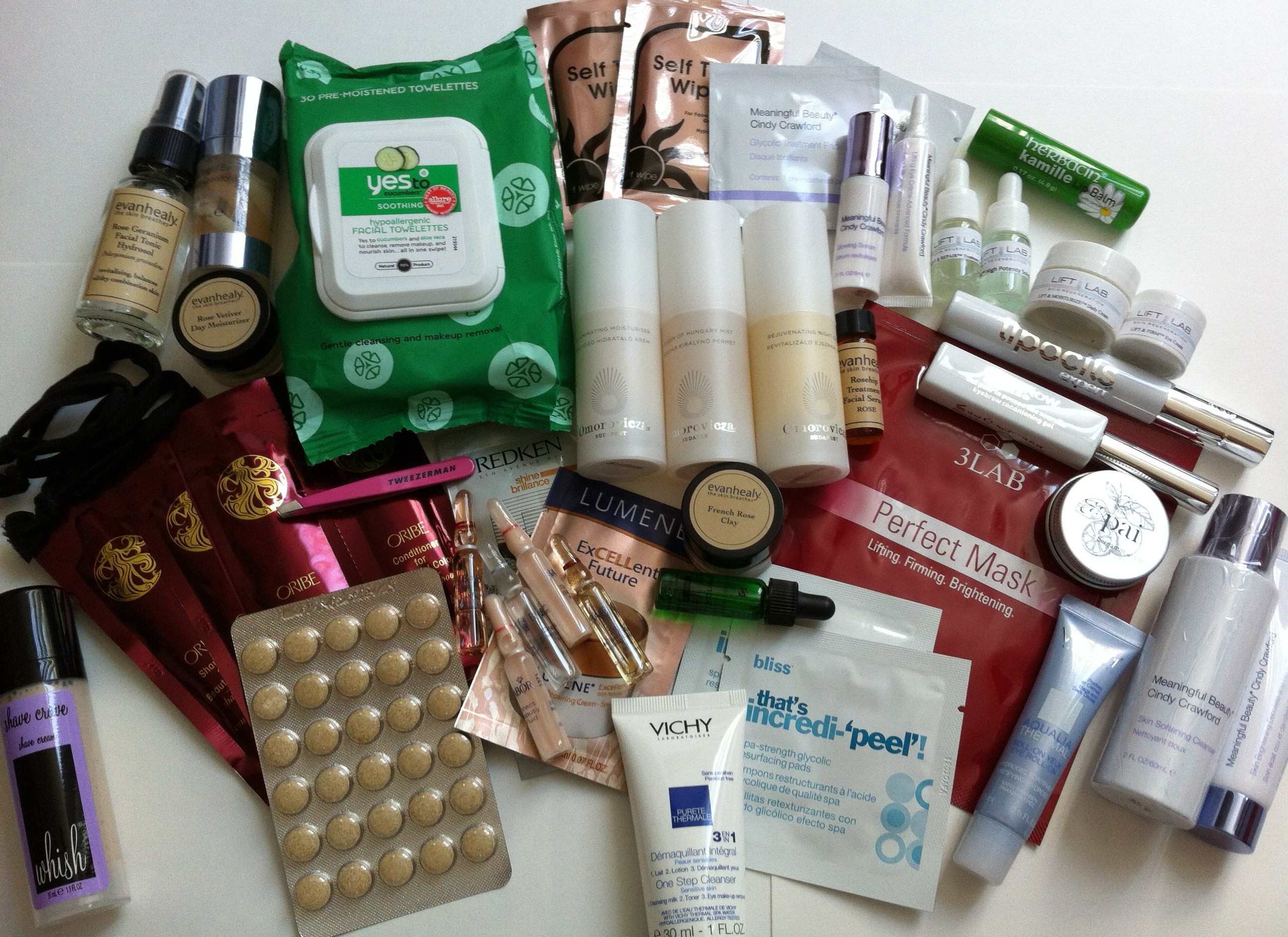 People always laugh when they see my travel beauty essentials, I always over-pack and travel with more beauty essentials than clothes.  Why? Because I can't control the climate or how my skin is going to react to eating certain foods, water, pollution etc..
A woman after my heart is MariaCarla Boscano, the muse for Riccardo Tisci of Givenchy.  She travels with 6 cases of skincare for the same reason, we both realize that our skin is ever-changing.  Using the same skincare regimen isn't the solution for healthy skin, especially while traveling.
I suffer from adult acne, hyperpigmentation scars and don't always wake-up with glowing skin.  The weather and climate have a lot to do with how my skin reacts to skincare.  Being prepared is paramount.
Several of my favorite brands and pieces travel with me, these are the tried & true beauty essentials recommended for the world traveler.
Yes to Cucumber Towelettes– the best in the business, they remove dirt, impurities and traces of mascara and makeup.  They are also a great pick-me-up during a long 20 hour flight.$5.99
Oribe Beautiful Color Travel Set– Hydrating, nourishing and color safe for the hair obsessed. No matter the water pressure I know I'll have good hair while on vacation.$19.50 for 7 dual packets.
Omovicza Travel – The travel kit comes with two cleansing balms, a Hungary beauty mist, night cream and illuminating day cream – this is perfect and gives a huge dose of glow to tired and dehydrated skin.$99
Babor Beauty Fluids – Because you can never have enough fluids, my favorites being the beauty fluid for a boost of radiance, Oxygen and firming fluids for friendly travels. $33/$44 For a package of 7-5 ampoules.
Viviscal – the One Vitamin I never forget to take, why? Because my hair regardless stays healthy, happy and full. $49.99 for a 30 day supply.
Bliss that's indredi-"Peel"! – Great for keeping acne at bay and keeping your skin smooth, soft and healthy. $49.00 for a box of 30.
Lift Lab Travel Kit – Because sometimes you need a beauty regimen that reverses the signs of premature aging skin.  Skin is firmer and noticeably younger looking in 5 days. $20
Evan Healey Travel – Organic Rose and Green Clay masks are a great way to detox your skin and bring back to normal after crossing the Atlantic.  I'm also a sucker for their beauty mist…can never have to many of those while on vacation. $4.95/$9.95
3LAB Perfect Mask – For those thirty minutes when you need to send your skin to rehab. Skin is instantly refined, brighter and smoother. $130 for a package of 5.
Meaningful Beauty – A quick beauty fix that get's your skin glowing in no-time.  Skin is firmer, pores are minimized and the signs of premature aging skin are reversed. $39.95 for a 30-day supply.
Jean Pierre Self-Tanning Wipes – The scent is delicious and the tan is to die for, because while away we might need to bare a little  skin. @Ulta.com
Whish Shave Cream – Smooth skin is required, especially while enjoying a tropical vacation. Legs are nick-free, soft and silky. $25
Talika Lipocils – Hopefully while on vacation I can concentrate on naturally enhancing my lashes and forgo the mascara. $42/$55
Needless to say, this is just a drop in my travel bag. There is still makeup and other beauty essentials I might need.  One can never be too prepared for radiant glowing skin, especially away from home.
Here's to Safe Travels!