Sensual Scents That Feel Like Second Skin – The Fragrances by Agent Provocateur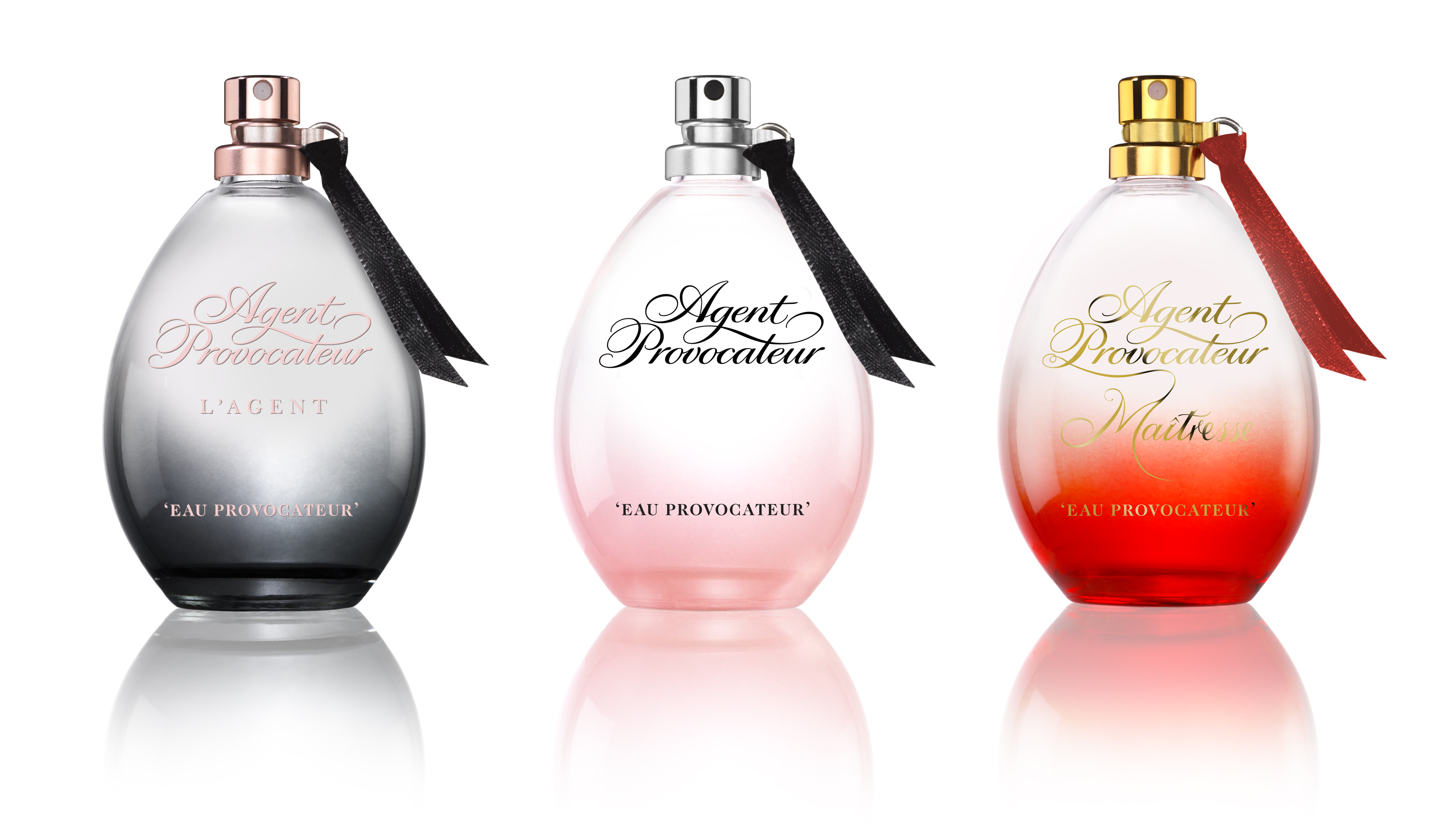 The way we feel when wearing something pretty and feminine is sensual, especially when those little silk unmentionables are from Agent Provocateur.
I always feel better about myself after I've lost 5 pounds and slip into something silky but more importantly is what I put on first, fragrance of course.
Spritzing scent first thing in the morning before anything else is a luxury every woman should experience, just make sure not to get it on your clothes.
For those of us that have yet to experience an Agent Provocateur moment and desire an introduction, the renowned lingerie shop recently launched three fragrances that captivate the senses.
Agent Provocateur 'Eau Provocateur'
A daytime sparkle for fans of the original Eau de Parfum this is a scent that will also resonate with a new Agent Provocateur customer.  This vibrant accord of citrus notes teamed with red fruit is truly exquisite.  At its heart lies an array of fresh new florals such as Muguet and Orange Flower to provide lift and diversity.  Gentle base notes of Myrrh, Vanilla, and Tonka Bean add softness and sensuality.
Agent Provocateur L'Agent 'Eau Provocateur'
The seductive and sensual twist that gives L'Agent its unmistakable aura simmers under the surface of this fresh floral fragrance.  Subtle citrus accords of Bergamot, Leaf Accord (fresh cut green leaves), Mandarin, Apple, Melon, and Peach are the opening salvo which gives way to a seductive heart full of Rose, Jasmin, Tuberose, Magnolia, Freesia, and Ylang.  The base is delicately caressed with the finest ingredients including Musk, Patchouli, Sandalwood, and Amber Crystals.
Agent Provocateur Maitresse 'Eau Provocateur'
Provocative and enigmatic, this modern interpretation of Maitresse will leave you wanting more.  Here lie fragrant accords of Rose, Jasmin Sambac, and Iris with delightfully light, green notes of Acacia (a thorny shrub).  A green note of Granny Smith Apples makes this lingering scent so fresh and floral.  A delectable base of Amber, Sandalwood, Tonka, and gourmande elements complete this floral feast.
My favorite is L'Agent Provocateur because it's the one my romantic partner prefers.
Which one will you prefer?
54 Geary Street
San Francisco, CA
94108
USA
Telephone
+1 415 421 0229