The Bamboo Paddle Brush by Sam Villa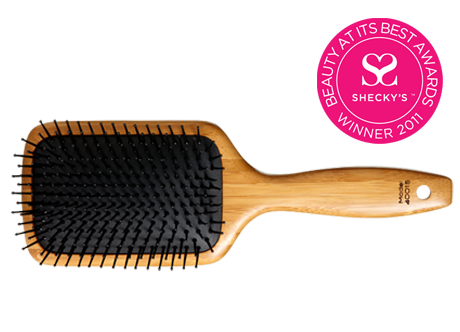 A Paddle Brush glides through thicker hair, aiding in the detangeling process for a smooth blow-dry.  Being obsessed with my hair I have several beauty tools I rely on that help me manage my fine, thin and frizzy hair. One of my favorite haircare tools is my paddle brush by Sam Villa.
Paddle brushes can help eliminate  center parts and give a smooth blow-dry to large sections of thick hair.
Key Benefits:
Deluxe Bamboo: Durable and environmentally sustainable
Solid One-Piece Construction: Guaranteed lasting performance
Extra Long Handle Length: Eliminates snagging at the grip and provides support at palm and wrist
Split-Like Design: Provides greater support for the palm and wrist

Hair Tips:
Using a Sam Villa Signature Series Paddle Brush, brush a slice of hair diagonally across the part with the nozzle of the blow dryer positioned close and parallel to the brush with heat on medium. Continue slice by slice until the entire part is covered.  Then, change directions and take slices from the opposite side of the part diagonal and over working from back to front.  Hair is dried in an "X" pattern over the part on medium heat to break the bonds so they can be reformed.
Here's to Happy Styling!