An Ode to Amyris – Maison Francis Kurkdjian, The Pursuit of Scent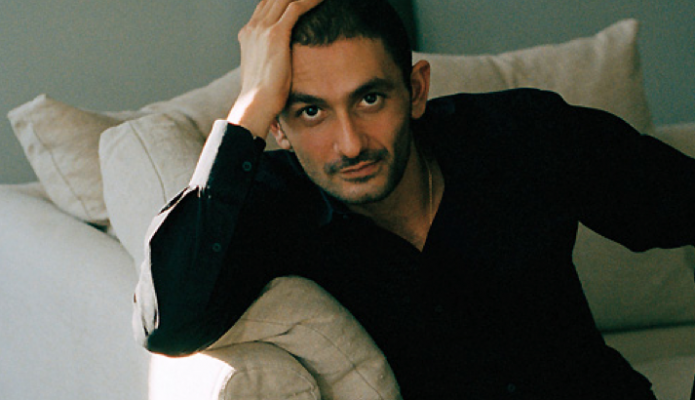 Choosing fragrance can be an overwhelming experience, especially if you don't know what you're looking for. Fragrance is personal and subjective, and can be a deal breaker in a relationship. I recall my bottles of Loves Baby Soft, Fire Fox by Avon, Cinnabar by Estee Lauder and KL by Karl Lagerfeld. All fragrances I wore in the past before falling in love with florals like Spring Flower by Creed and Orange Blossoms by The Organic Pharmacy.
Most recently I discovered Amyris by Maison Francis Kurkdjian.  I admit I was hesitant at first, the bottle alone was gorgeous, but I found most perfumers used ingredients that didn't suit my chemistry, everything smelled the same and heavily formulated with Patchouli, Musk, Neroli and synthetic ingredients.
Amyris was a surprise, a sensual scent that evokes sensuality, pure femininity with the feeling of intimacy. I had the feeling Francis Kurkdjian knew me; I had to know more about the man that formulated such an intoxicating fragrance, about the man that gave me and the rest of world the pleasure of scent.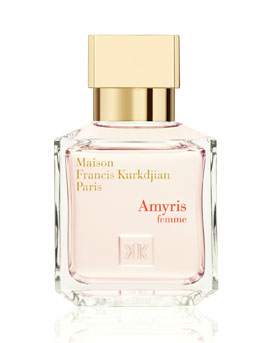 For the past 20 years Francis Kurkdjian has been formulating the world's most celebrated fragrances for various designers and brands such as Jean Paul Gaultier, Ferragamo, Ungaro, Yves Saint Laurent, and Aqua di Parma, the list is endless. Let's not forget that he also re-created Marie-Antoinette's perfume, MA Sillage de la Rein "In the wake of the Queen".
Francis Kurkdjian is a pioneer, establishing himself as a leader in perfumery by breaking with the typical mold of using your run-of-the-mill ingredients. Maison Francis Kurkdjian is pure luxury mixed with carnal sensuality, evoking pleasure in our pursuit of scent.
"Besides being very talented at creating fragrances, Francis has a great ability, which seems to be rare nowadays: he knows how to give volume to a perfume and also to make it last. What in French we call sillage and remanence. He's obsessed with it. I also really like the way he introduces animal materials in his formulas, in a very subtle way, like hints of cumin (the spice) which has a "fur" effect on the skin." – Lili Barbery-Coulon, Journalist, Le Monde Magazine
Most recently we had the opportunity to ask Francis Kurkdjian a few questions, read further to discover how to go about choosing a fragrance, a signature scent and what consists of a fragrance wardrobe.  Naturally I had to get a little personal; after all wearing Amyris gave me the feeling that he already knew my most intimate thoughts.
AR: Thank you Mr. Kurkdjian, we appreciate your time.
FK: My pleasure, really.
AR: How does one go about choosing a fragrance?
FK: You know a fragrance suits you when you get comments from your entourage, have compliments from people who live around you, at work or in private. At some point, you even forget you are wearing a scent. This means you live in symbiosis with your perfume.
Choosing a fragrance is an experience that can be compared to love. Are you looking for a long-term relationship or a flirt? Are you looking for a signature fragrance that will follow you many years or a "one night stand scent", a fragrance that is more of an accessory and follow your mood.  For the first case, you will need time to try the fragrance on your skin and wait to see how your entourage reacts to it.
Do you get any comments, for your lover/husband, friends, kids, family, and co-workers? And then see how you feel about it. If you do not have any feedback or a comment that means it's not the right fragrance and you may have to try another one. Until you find the one that pleases you and the people you care about. If your consider fragrance as an accessory that completes your look and follow your mood, then you might buy what you like at the moment. It's like love at first sight!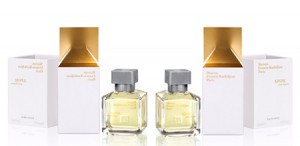 AR: Fragrance wardrobe?
FK: I don't believe in one signature fragrance. To me it's like telling someone: You can wear black trousers only.
AR: Inspirations?
FK: My creative process gathers inspiration from many different fields: Art, literature, music, etc. My inspiration is not driven by raw materials. I first focus on a general feeling. Then I try to envision the final image for the fragrance. I dream my fragrance then only do I start writing the formula. How do you want to create something if you don't know what you want to say? Painters use colours, musician notes, as a perfumer I use smell.
The name of the fragrance always comes first. It sums up what I want to say with my perfume. It's like the title of a book or the name of a painting. It gives me a guideline, a creative path to follow.
The heart of my inspiration is Paris and each fragrance of Maison Francis Kurkdjian is part of a fragrance wardrobe that I built year after year. My travels take me away, but they also serve to bring me back to my Paris, and its heterogeneous population, to its light and the shade of its monuments, the grey of its rooftops and the bursts of magic as its golden spires puncture here and there its incredible skyline.
Paris inspires the universe my House: grey zinc and gold. The inspiration for the flacon comes from an antique bottle. To underline it, I added a small signature – the monogram of the House – at the back of the flacon, much in the manner of artists signing works with pride. A tube extends from the atomizer pump but seems to disappear after the first spray, leaving the perfume languid in its container. We wanted a stopper made of a material emblematic of Paris. We chose gold and an alloy of zinc. Zinc is alive and interesting in that it refuses uniformity. Thus, no two stoppers are identical; each has its own unique variation dependent on the density of the grey colour. We made the same choice for the bases of the candles. The alloy is only treated to prevent oxidation.
AR: What separates Mansion Francis Kurkdjian from other brands?
FK: The creation of my own brand was a natural process, like something I had to do, create and share with the public. The world of my Maison Francis Kurkdjian expresses what I believe in the terms of luxury and fragrances. My House is a tribute to Paris and each scent is part of fragrance wardrobe to accompany each of us, every day, day after day and every night.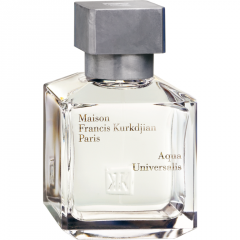 Maison Francis Kurkdjian is the house of a perfumer and nests the true art of perfume making.
A luxury brand exists only if the products are luxury. So each product is carefully crafted. I push the limit so each product, each detail tend to perfection. That's the only way to create a luxury product.
AR: What was it like to re-create Marie-Antoinette's fragrance?
FK: It all began when I met a historian specialist of perfumes in 2003. She was writing a biography about Jean Louis Fargeon, one of Marie Antoinette's perfumers. My custom made work was the opportunity to re-create a fragrance we dedicated to Marie Antoinette. From historical books we learned about her taste in flowers, especially roses and iris, a far cry from the heavy musky and amber fragrances generally used in the 18th century.
When I went through Fargeon's formula book, I realized I could compose the exact same fragrance, only using unique natural ingredients. I remade one of them, using the same ingredients, and we named it "MA Sillage de la Reine".  The final fragrance could be described as an elegant, poetic and a little bit insolent.
AR: "Perfume" by Patrick Suskind?
FK: I spent 2 days in a row reading that book when I was 17. I forgot to eat and sleep. I was totally obsessed with it.
AR: Favorite restaurant in Paris?
FK: Currently, Chez Nenesses, rue de Saintonge in the 3rd district is one of my favorites.
AR: Last book read?
FK: I always have 2 or 3 books on going. Proust at the Majestic from Richard Davenport-Hines was one of these. For the Yves Saint Laurent Pierre Bergé Foundation I have created a scent for a painting exhibit last fall about Jacques Emile Blanche, a painter of the French high society before WWI. Blanche was a friend of Proust and he portrayed many famous people who inspired Proust for Remembrance of Things Past. Proust at the Majestic gave me the spirit and the feeling of that era. The scent I have created is truly inspired from that same period and I have deliberately shrank my perfumer's palette in order to be in the same creative condition as a perfumer of that time. It was a creative challenge to create a fragrance with little raw materials. Basically, 95% of my palette disappeared.
AR: List 5 items/things you can't live without?
FK: Nivea blue cream, My iphone, Sunglasses, A scarf from Faliero Scarti in Florence and a bottle of Krug.
AR: Red Lipstick?
FK: It depends on the woman and shade of Red Lipstick.
In the Pursuit of Scent – An Introduction:
Behind each fragrance I have created, there is a story and my creative process gathers inspiration from many different fields: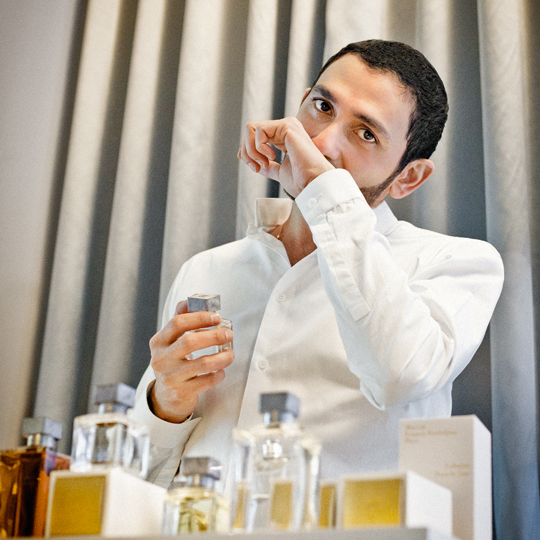 The Fine Fragrances (Eau de parfum, Eau de toilette and Colognes) convey the sense of elegance and chic attitude. In my mind, there is a unique style in Paris that I have not seen anywhere in the world. All the fragrances are created of course and blended in France.
APOM has been inspired from my trips to Lebanon almost 10 years ago.
Absolue pour le Matin is about light and sun, sleep-in late, cotton and linen, pillow. A story I have created from the first pages of a novel by French writer Françoise Sagan, Bonjour tristesse.
Absolue pour le Soir is a total different story. It's about Sex Drug and Rock'n roll. Mick Jagger wearing leather pants and Jerry Hall wearing a leopard pattern dress, lounging on a leather sofa; smoking cigarettes and drinking scotch. It's more of a Helmut Newton inspiration. That story could have been inspired also from the famous Studio 54 in NYC.
The creation of Aqua Universalis forte goes back to an encounter with my citrus supplier in Calabria, South of Italy.
Lumière Noire is a tribute to French elegance and Couture style. Its name is a tribute to Catherine Deneuve, the famous actress and Yves Saint Laurent muse.
Amyris is my translation of effortless elegance and French refinement.
Last, The OUD mood collection reflects my sources of inspiration, and some ideas I have found during an alone together with the raw material while creating OUD. I have imagined them as sensations, feelings, textures and fabrics. They play on warmth, glamour, comfort and sensuality.  Their preciousness, intensity and concentration make them stand out.
Oud velvet mood is enveloping as velvet and gives the sensation of density and fluidity. Main notes are cinnamon from Ceylan, saffron and Brazilian copahu balm.
Oud silk mood is a silky fragrance, a light and airy fragrance reminiscent of the soft touch of a petal. It combined Bulgarian rose with blue chamomile from Morocco and papyrus.
Last, Oud Cashmere mood is an oriental fragrance, woven with all the gentleness of a "second skin". It's soft and balmy and oud is enhanced with Moroccan labdanum, Laotian benzoin and vanilla.
AR: Thank you, we learned a lot.
For Maison Francis Kurkdjian in San Francisco:
Neiman Marcus
Union Square
150 Stockton Street
San Francisco, CA 94108
415-362-3900 or @FrancisKurkdjian.com
For those of you visiting Paris:
Maison Francis Kurkdjian
5, rue d'Alger
75001 Paris Metro Tuileries
Tel : +33 (0)1 42 60 07 07
Or
Printemps Haussmann
64, boulevard Haussmann
75009 Paris
Tel : +33 (0)1 42 82 50 00