A Favorite Around the World – Erborian Lip Bome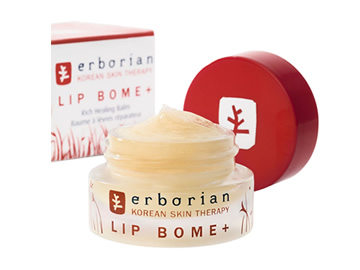 One of the perks of  my job is discovering new beauty brands that deliver healthy beautiful skin.  Erborian is a Korean skincare brand that delivers immediate relief and long-term healing benefits to dry, and damaged skin.
Created with Red Korean Ginseng and infused with traditional herbal ingredients,  Erborian  repairs the skin's cellular disorder – leaving it completely healthy.
Lip Bome by Erborian is no exception, formulated with the same ingredients in all Erborian skincare.
Yuzu – Naturally plumps the skin, provides the skin with high doses of Vitamin C
Licorice – Anti-inflammatory, anti-redness and chalkful of antioxidants.
Green Prune – Renews the skin, detoxifies the skin.
Soy & Rice Proteins – Restructuring nutrition.
Gingko Biloba – Improves the skin's microcirculation, detoxifies the skin.
Ginger – Purifies the skin, detoxifies the skin, aids in the skin's microcirculation.
Lavander – Repairs the skin, anti-inflammatory.
I'm personally obsessed with erborian's lip bome, I apply it in the mornings and evenings. Lip Bome by erborian naturally enhances the natural lip color – creating an enticing kissable pout.  Because kissing should be fun!
Lip Bome by Erborian is a Citygirl's beauty must for naturally plump and kissable lips.