A Boost of Collagen for Younger Looking Skin – by Exuviance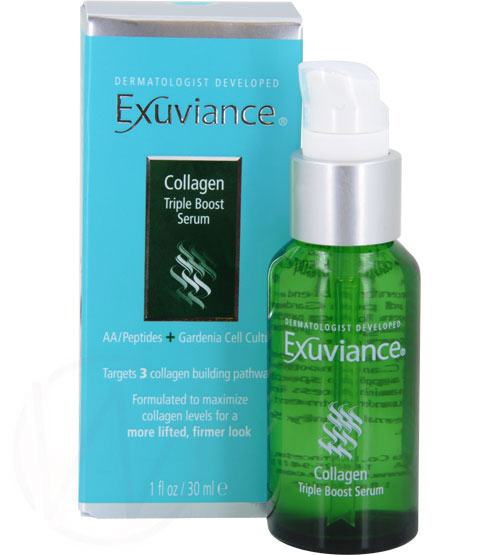 Skin changes as we get older and our collagen production slows down.  The results are looser less firmer skin.
Collagen Triple Boost Serum by Exuviance has been clinically proven to aid the skin in collagen production.  The combination of proven botanicals and science give the skin that boost it needs to repair and give the skin a more youthful and radiant appearance.
Key Ingredients:
Four Amino Acids provide the skin with the building blocks of new collagen
Matrixyl™ Peptides help stimulate new collagen
NeoGlucosamine™ builds Hyaluronic Acid, skin's natural filler and collagen support system
Gardenia Cell Extract helps block enzymes that can degrade collagen and slacken skin
Skin becomes firmer, tighter and wrinkles, tiny laugh lines are minimized for a younger looking you.  The longer you use it, the greater the results, perfect for layering with your other favorite moisturizers or nightly treatment products.
On a personal side, I love all Exuviance skincare products, my results are healthy and luminous skin.  Turning back the clock is easy peasey with Exuviance.
Collagen Triple Boost Serum by Exuviance is
Citygirl
approved!
$68