Eva Scrivo's Life in Beauty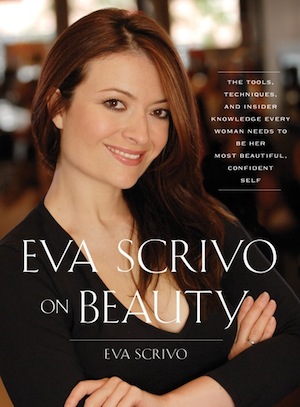 The Eva Scrivo salon is one of New York's most prestigious Salons & Spas, Eva is also a well-known and respected  hair and makeup artist, radio show host and television personality that recently published her first book: Eva Scrivo on Beauty.
Eva Scrivo on Beauty is the best beauty book the beauty industry has produced in a long time. Not only does Eva teach us the rules of beauty, but also when it's appropriate to break the rules to suit our individual style. From Eva we learn how to design the proper haircut for our facial structure, how to accomplish a salon worthy blowout and how to cope with stress so that it does not affect our inner beauty.
I met Eva at her book signing party and was impressed not only with her knowledge of the beauty world, but with her willingness and generosity in sharing it with everyone. As usual I couldn't resist and had to ask her about Red Lipstick.
Anita: Your Beauty Essentials , products you can't live without?
Eva: My Opal by Clarisonic to help remove eye puffiness. I use it with my favorite eye cream.
Anita: What is your 5 minute makeup routine when you're trying to get out the door in the mornings?
Eva: I use one drop of foundation on moist skin; concealer; a light dusting of mineral powder; bronzer; curl my eyelashes, and apply mascara and lipstick.
Anita: What beauty item would you most love to receive and why?
Eva: An Oxygen Facial. The results last for a few weeks when done correctly. We actually do them at our spa. This is not to be confused with oxygen facials where oxygen is just sprayed on the skin. Here, the oxygen is pushed into the skin with hyperbaric pressure.
Anita: Who is your style icon?
Eva: I appreciate so many women over the decades that it would be hard to pinpoint just one.
Anita: What is your favorite shade of Red Lipstick?
Eva: Royal by T. LeClerc,  It's a true shade of red with an equal balance of blue and brown undertones. It works well with my fair, yellow-toned, complexion. It also stays put.
Anita: What's in your makeup bag?
Eva: I keep a travel size of everything that I use in the morning, so I can refresh mid-day and before dinner, or after the gym. It's contents are too extensive to go into detail about.
Anita: What is your skincare routine – your favorite skincare products and why?
Eva: Retin A – it helps to plumb the skin and increase cell turnover. I use it 3 to 4 times per week, at night. Generally, I use a combination of YonKa, Suki, Skinceuticals, and La Roche Posay products for my basic skin care.
Anita: What is your signature style?
Eva: Always glamorous and a bit goth – with influence from the 60s or 70s.
Anita: What's something people don't know about you?
Eva: Although today I'm mostly known for my work with hair, I started my career as a makeup artist, which has given me a better understanding of how hair color works with one's complexion.
Anita: Any last-minute pearls of wisdom?
Eva: The key to looking beautiful is not any one thing. It's a combination of one's diet, lifestyle, attitude, sense of style, having the right professionals in your life, and knowing how to execute basic hair and makeup techniques at home. The attitude portion of this, in particular, cannot be overestimated.
Concentrate on the attributes that you like about yourself, not on the ones you don't.
Anita: Thank you Eva! It was a pleasure meeting you and Arik – and I'm looking forward to visiting the Eva Scrivo Salon & Spa on my next trip to New York.
Eva Scrivo on Beauty is a delight to read,  easy to understand and full of beauty information for everyone. For more on Eva style.com.
50 Bond Street
New York, NY 10012
212.677.7315