NEW No-Tug Heavenly Luxe Dual Shadow Brush by iT Cosmetics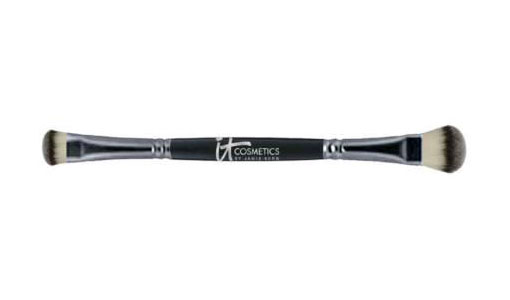 Leave it to iT Cosmetics to create another great beauty tool that raises the bar on uber-luxurious makeup brushes.
It's no mistake because iT Cosmetics partners with leading plastic surgeons in Brazil to develop anti-aging cosmetics and beauty tools that prevent premature aging and that correct the signs of neglect.
New No-Tug is ultra-plush – it's a liner brush and an eyeshadow brush rolled in one.  It's the first anti-aging and age preventative shadow brush of it's kind.  The ultra-luxe technology gives a flawless finish every time, with no tugging on our delicate eye lids it sweeps our favorite pressed or loose powder eyeshadows in one easy application.
I love how the brush feels in my hand, it's soft to the touch and the rubberized handle is easy to hold. It makes applying eyeshadow or eye liner easy peasy, especially on those mornings when you're a in hurry to get out the door. It's my favorite beauty tool!
You can use the smaller smudge brush end below your lower lash line for either a gorgeous thick or thin airbrushed effect.
New No-Tug Heavenly Luxe Dual Shadow Brush is Citygirl approved!
$24