CÉLINE & Redken – Simple, Chic And Ever So French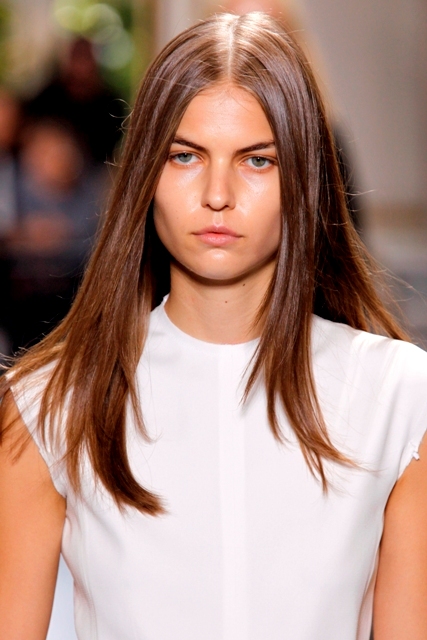 Many women are fans of CÉLINE, from their clothes to their stunning handbags that have become instant chic accessories to the world's most fashionable women.   Read below for beauty insider information on how to achieve the look walking down their most recent fashion show by Guido, Redken Creative Consultant for Redken.
*Redken Creative Consultant Guido styled light, clean hair at Céline's Spring 2013 show to balance one of the label's most conceptual collections, which showcased a number of different textures and fabrics. While both the hair and the clothing was overall minimal, the pure and simple hairstyle exuded a certain sexuality also present in the collection.
At Céline today the hair is very simple, very chic, and has a light, easy feeling. It's all about the cleanliness of the hair, the lightness. As we've seen often this season this look is quite minimal, reflecting the designer's wishes as well as the aesthetic of the collection." -Guido, Redken Creative Consultant
Redken Products Used: 
-All Soft Argan-6 Multi-Care oil
Creating the Look:
Shampoo and conditioner hair with Redken's All Soft haircare line for a clean, soft base.
Apply a small amount of All Soft Argan-6 Multi-Care oil to damp hair and blow dry until smooth with a big round natural bristle brush.
Create a natural-looking center part.
Twist hair up into a loose bun, place in one pin and leave for half an hour.
Take pin out and let hair down for a look with natural movement and texture.
Here's to Happy Styling!