My Makeup Bag – Glamour Essentials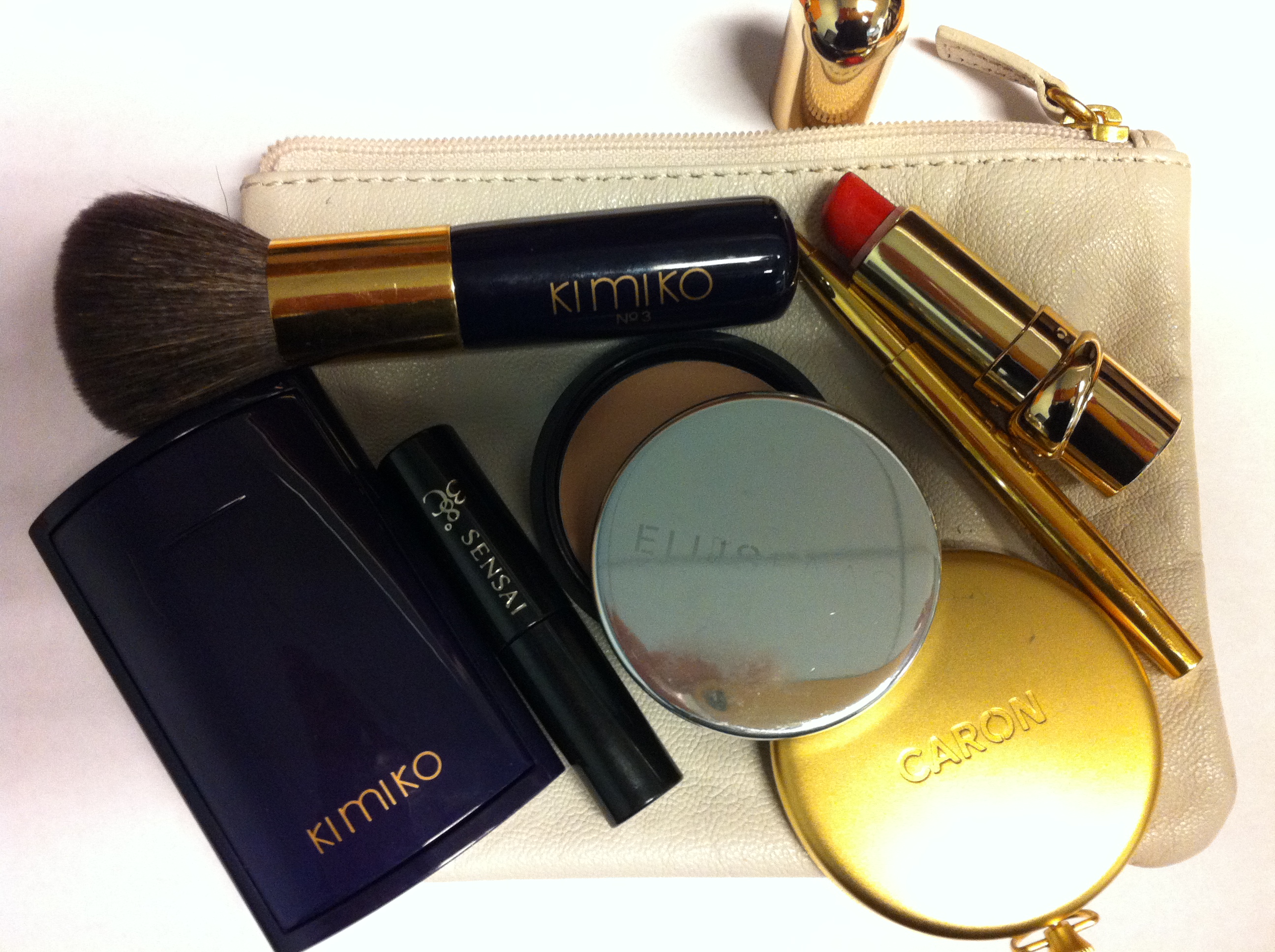 Like most women I admit I do have two makeup bags I carry around in my handbag on a daily basis, a smaller bag filled with the contents you see here and another makeup bag filled with other daily essentials that I admit need  editing.  The contents of this smaller bag fit inside my YSL black patent leather clutch, for special occasions when I can't lug around my oversized YSL Muse or other handbags.
I fell in love with the beige Marc Jacobs makeup bag, mainly because the color worked well with the contents.  I believe that if a woman is going to pull out a compact, lipstick or any beauty item while out to dinner that it should be pretty and non-offensive.
Inside my makeup bag:
1.  Kimiko Beauty Compact -This amazing compact offers anti-aging properties so you're helping your skin at the same time as your touch-ups.
2. Kimiko Beauty Powder Brush – I love the navy and gold combination and the brush picks up the right amount of color.
3. Kimiko Beauty Lip Brush – It's gold and fabulous.
4. ELLIS FAAS Compact Case – I alternate between this luxurious powder and my Kimiko Beauty, depending on my mood while I'm sitting at my desk.
5. Julie Hewitt Red Lipstick in Belle Noir – I've been obsessed with this red lipstick, its organic and I can't stop myself from wearing it every day.
6.  My Caron Compact – Once I get the opportunity to visit Paris again, the Caron Boutique is a destination, this compact is only a mirror and I pull this out mainly in public where a mirror is necessary.
7. Mini Sensai Mascara – Because you never know when you may not wake-up at home.
What's in your makeup bag?