Caudalie's Live FaceBook Chat Event – Getting Your Most Pressing Beauty Questions Answered!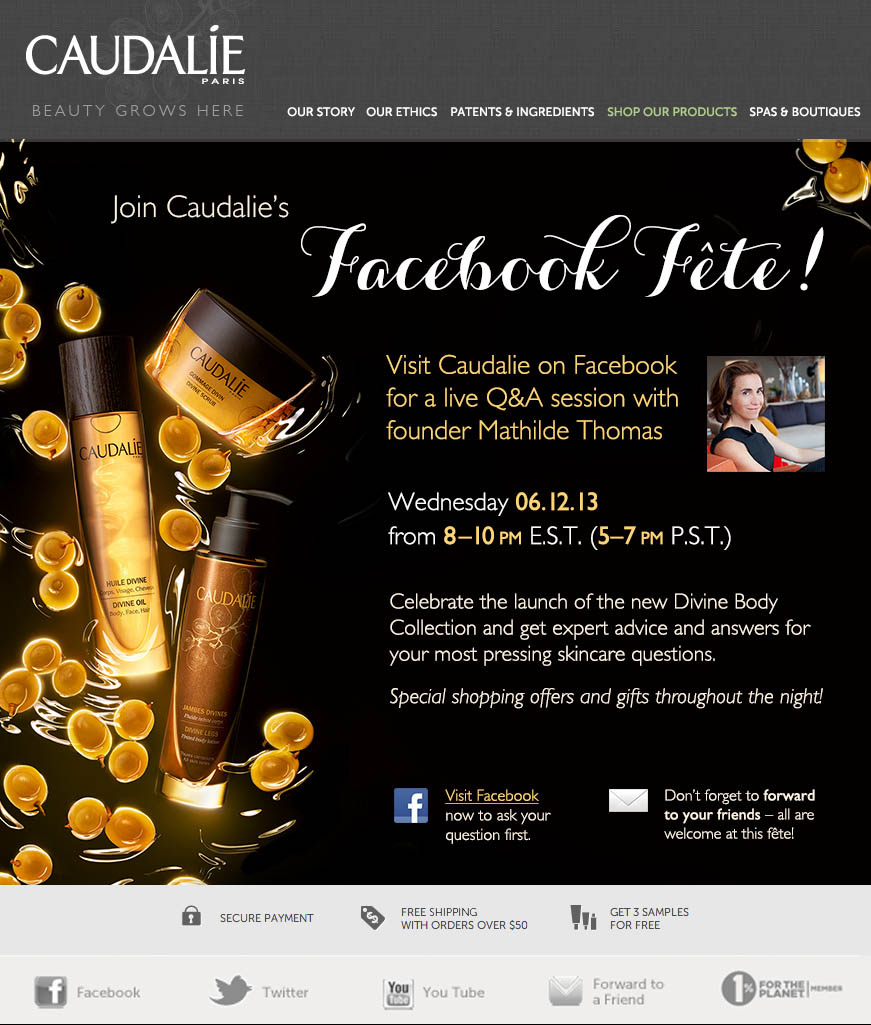 If you haven't made Caudalie part of your everyday skincare regimen, this is your opportunity to ask your most pressing skincare questions and have the opportunity to win prizes.
On June 12th, Wednesday from 5pm – 7pm P.S.T Caudalie is hosting a live  Q&A Facebook chat session with Caudalie founder, Mathilde Thomas.  You will receive expert advice and not only win prizes but receive 20% off  your purchases  on Us.Caudalie.com.
Caudalie is celebrating the launch of their new Divine Body Collection, which includes their already cult beauty staple Divine Oil.
Another new addition is Divine Legs  the latest edition to an already impressive skincare and body care collection.  A decadent tinted body lotion that leaves your skin with a sun-kissed glow until you wash it off.  The perfect body lotion for all skin tones, your skin is left hydrated and naturally golden.
The scent of  grapefruit, rose, pink pepper, vanilla and cedar will intoxicate you while you stay summer-ready, all year-long.  The Illuminating Pearlizers help conceal skin issues we all worry about and will keep your skin silky smooth.
Key Ingredients:  Chicory Extract, Grape Seed Oil, Illuminating Pearlizers
You may be asking yourself what makes grape oil unique? *Grape seed oil is a priceless treasure from the vine, grape oil contains a high concentration of omega 6 and vitamin E which gives it nourishing and regenerating properties. In a nut-shell you're going to want to bathe in this luxurious elixir.
Where:  Caudalie's Facebook page
Why: To celebrate the launch of Caudalie's Divine Body Collection
Oh, and don't forget you get to win prizes! See you there!