Beat The Heat with Tinted Moisturizer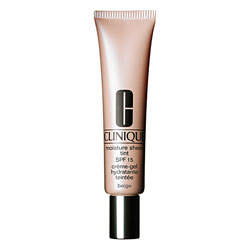 I recently discovered a delightful little makeup treasure at my local Clinique counter: Clinique Moisture Sheer Tint SPF 15, $27. For summer, I love tinted moisturizer instead of foundation. And the beauty of Clinique, I've discovered, is that it is the only moisturizer on the planet that doesn't break me out. In the winter, I used Clinique Moisture Surge, which cleared up my horribly dry skin and left my skin acne-free.
This tinted moisturizer adds a glow to my face plus covers imperfections. I use my trusty cover up for dark circles and more serious problem areas and I'm good to go.
I'm still sweaty, mind you. Although I like to say I'm "glistening." It sounds a little less disgusting.
Photo courtesy of Google Images