Adding An Extra Boost of Beauty with Talika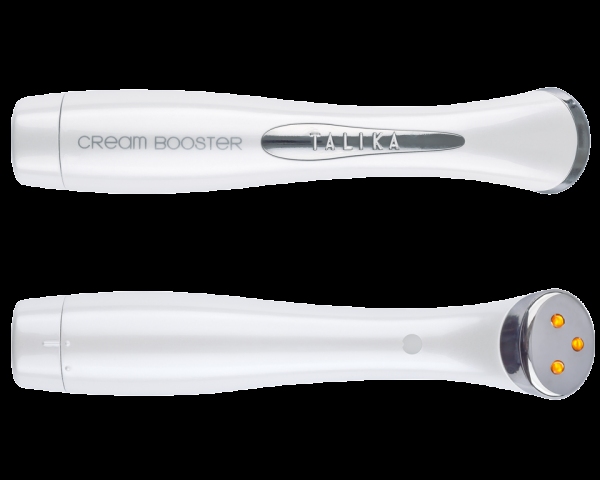 Sometimes we don't wakeup with radiant and glowing skin, even after visiting our dermatologist or favorite spas.  How to get our favorite lotions and potions to work overtime so that our skin doesn't have to? Introducing the professional beauty junkies choice for adding that extra boost we need to kick-start our beauty routines.  The Cream Booster pen by Talika.
Talika continues to lead the path by creating  unique beauty devices like the cream booster pen  that multiplies the efficacy of our favorite moisturizers, serums and eye products to deliver healthier skin for immediate results.
How does it work?
*The combination of three exclusive technologies in one device delivers a targeted and reinforced action from the active ingredients, for even greater effectiveness. Your moisturizing cream becomes a super-moisturizer, your anti-wrinkle cream a super-anti-wrinkle treatment, and your purifying care a super-purifier.
Clinical studies prove that wrinkles are diminished by 32% and skin is more even by 33%.
How to use:
Use Cream Booster in addition to your usual skincare.
1. Apply your usual skincare product to thoroughly cleansed skin.
2. Take Cream Booster and place your index finger onto the device's metallic plate.
3. Place the head of the device onto the area to be treated. The device will start up automatically.
4. Move Cream Booster onto the areas to be treated, from the interior of the face outwards, for 1 minute.
The Talika tip: Cream Booster may be used at any time of day, even without cream, to relax and re-energize the epidermis.
I use the cream booster pen over my hyperpigmentation spots and around my eye area, waking up with brighter skin and zero under-eye puffiness is guaranteed.
The Cream Booster pen by Talika makes a great addition to any skincare regimen.
$145