Connie Britton of Nashville at The Golden Globes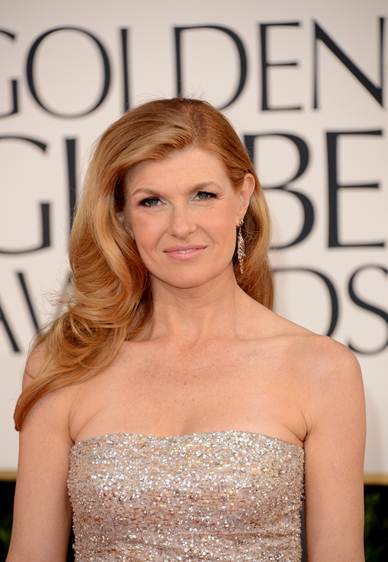 One of my new favorite shows is "Nashville".  I think of it as indulgent quality trash TV.  The writing is good and the acting is amazing, not to mention Connie Britton's makeup, hair and wardrobe.  Tonight's Golden Globes is no exception, Connie looked just as radiant and gorgeous as she does on TV.
Rod Ortega, Celebrity hairstylist created a classic 1940's Hollywood look for Connie using Leonor Greyl.  I'm a huge fan of Leonor Greyl, the natural ingredients are favorites among the fashion crowd and used by everyone in the know, When models are asked how they keep their hair healthy and pretty they all say the same thing Leonor Greyl.
The details:

For Connie's Golden Globes look tonight the inspiration was Rita Hayworth in 'Gilda'." To start off, celebrity hairstylist, Rod Ortega, dampened Connie's hair and prepped it with Leonor Greyl's Serum de Soie Sublimateur on the ends, and then on the roots he applied Leonor Greyl's Mousse au Lotus Volumatrice.  He used both of these products together to guarantee healthy, high shine, and movable hair through the evening. 
Rod then began blow drying the hair with a round boar brush, smoothing out the hair and finished drying it.  Before using a heat styling tool, he recommends using Leonor Greyl's Spray Structure Naturelle.

"This setting spray is very important because it's going to give the hold for the style."  Using a 1-inch curling iron and setting the hair with the setting spray, he let Connie's hair cool and brushed the waves out with a large paddle brush into beautiful, shiny waves.  He then secured the waves with Leonor Greyl's Lacque Souple, a couple of pumps of the Leonor Greyl Spray Structure Naturelle… "and voila, you have a finished red carpet look!"
Here's to Red Carpet Tresses!
For More @LeonorGreyl.com