Help for Brighter Looking Skin – New Lumixyl Topical Brightening Pads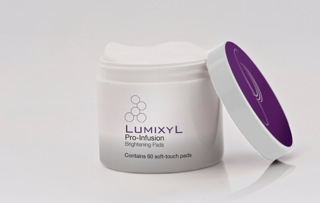 Need help looking bright-eyed-and-bushy-tailed? I know I don't always wake-up with glowing skin, no matter how hard I try.
Lumixyl by Envy Medical is my go-to product for lightening my stubborn hyperpigmentation spots, caused by adult acne.  Recently I experienced over-night glow heaven after I slathered my skin in their New Lumixyl Topical Brightening Pads, ladies they work.
My dull-lifeless looking skin was revived and back to it's glowing-self.
The whole Lumixyl Collection is designed to lighten and treat mild to moderate hyperpigmentation scars in as little as 8 weeks.
How do they work?
The Lumixyl peptide has been infused into the gentle exfoliating woven pads along with hydrating hyaluronic acid and soothing aloe. It's ideal for the great number of people who have issues with dry skin while using acne medications, retinoids, or post-laser treatment," says Curtis Cluff, CEO of Envy Medical.
Basically if you have any type of skin hyperpigmentation issues Lumixyl is the right product for you. Lumixyl by Envy Medical is for all skin tones and types.
New Lumixyl Topical Brightening Pads compliment any skincare regimen.  Personally I use them after my toner and under my night-time heavy duty serums and moisturizers.
Star Ingredient:
*Decapeptide-12 reduces the appearance of hyperpigmentation—age spots, sun spots, uneven skin tone and photo damage—without the typical side effects of other brighteners like irritation and redness. Plus, soothing antioxidants like licorice root also ease sensitive skin.
If your skin is in need of a little pick-me-up or suffers from mild to moderate hyperpigmentation then we recommend New Lumixyl Topical Brightening Pads.
For More Information @EnvyMedical.com
$55