A Perfect Glow: LORAC Bronzing Powder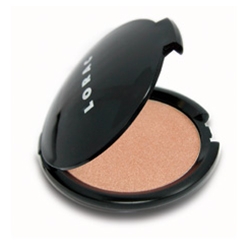 LORAC Bronzing Powder is a great bronzer for anyone who wants to add a warm glow to her face and not look too…bronzy. You know – that orangey, oversparkled look that is not flattering on anyone?
This bronzer adds a very natural-looking glow that shimmers rather than sparkles. Available in "Glow" (bronze shimmer) and "Warm Glow"  (light bronze with pink undertone).
Carol Shaw, Celebrity makeup artist and creator of LORAC Cosmetics advises how to apply bronzer correctly:
Apply with a large powder brush (try ecoTOOLS Bamboo Powder Brush), and starting on the forehead make a number '3' down the sides of the face: middle of the forehead, down temple around the eye to the bridge of the nose, curve back across cheek bone and down along edge of the jaw line. Repeat on the other half of the face.
Available at Sephora.
$28
Photo courtesy of LORAC