Hollywood's beauty secret for a sexier body – VelaShape by Syneron Candela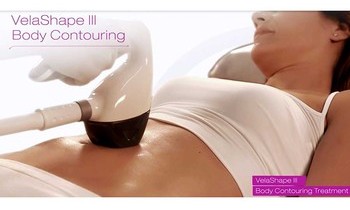 Ever wonder about your favorite celebrities' gorgeous legs or how they keep their skin smooth and have minimal to no cellulite. I've always wondered how our fuller figured sisters kept their skin firm and smooth no matter the size. I finally discovered their beauty secret and trust me; it's not permanent and won't work if you don't have a healthy lifestyle, but it will deliver and give you healthier looking skin in as little as 3 treatments.
Some women see a difference after their first 2 treatments, others after 4; it really depends on the problem areas, I came away impressed after my first 3 sessions and really saw a difference in the skin texture of my thighs and derrière. Ready for the beauty secret no one really talks about? It's VelaShapeIII by Syneron Candela.
How does it work? It's great for Body Contouring, Cellulite and skin tightening. There is no downtime and it's the non-surgical procedure for those problem areas we dread come swimsuit season, or areas we just learned to camouflage. It's a unique beauty service that's comfortable; it feels like a deep tissue massage and delivers enhanced clinical protocols with consistent results that can be reproduced time after time, delivering smoother, tighter skin.
*The technology
VelaShape™ is a clinically proven, FDA-approved non-surgical solution for temporarily reducing the look of cellulite and reducing thigh circumference. It uses a combination of light and bi-polar radio frequency energies to heat the superficial and subcutaneous fat tissue that contributes to cellulite and fatty deposits, triggering the cells to shrink. Plus, mechanical rollers and vacuum suction increase circulation and massage skin for a smoother look.
This type of efficient heating and vacuum stimulates the growth of new and better collagen and elastin which results in localized reduction in skin laxity, body volume, and an overall improvement in skin structure and texture.
What to expect: Gradual smoothing of skins surface with a noticeable reduction in cellulite and reshaping of the treated area.
What is the VelaShape™ procedure like? Most patients find VelaShape™ comfortable and describe the treatment as feeling like a warm deep-tissue massage. The treatment parameters are easily adjusted to ensure a comfortable treatment experience. It is normal to experience a warm sensation for a few hours after your treatment. Some patients report a pinkish appearance at the treatment area that may last a few hours post treatment, and skin may appear pink for several hours.
How many treatments: You will need 4 to 6 treatments for thinner thighs and smoother, dimple-free skin. The results will last six months or longer if maintained with diet and exercise. My results were noticeable after my3rd session, it's important to upkeep with a VelaShape™ treatment once a month or every 6 weeks to maintain results. It's also the perfect pre-vacation beauty service, besides a spray tan.
For VelaShape™ in San Francisco:
The Maas Clinic
2400 Clay Street
San Francisco, CA 94115
415-567-7000
For more about VelaShape™ @VelaShape.com